Montreal Canadiens: Making sense of the Joel Edmundson trade
The Joel Edmundson trade was another surprising one for the Montreal Canadiens, but this may have a lot more questions than answers.
Our heads were going back and forth when the Montreal Canadiens announced the Joel Edmundson trade. There is a lot of it that makes sense, and a lot of it that is still confusing.
Ken M: Expect the unexpected with Marc Bergevin. Trading for a depth left defenceman certainly does not address the most pressing needs for the Montreal Canadiens. Trading for one that isn't even signed makes the deal a little odder. Edmundson played a depth role for the St. Louis Blues when they won the Stanley Cup in 2019. He is a capable player at the NHL level on a third pairing, but don't the Habs already have Ben Chiarot, Brett Kulak, Victor Mete and Alexander Romanov on the left side?
I get that adding depth is important, and we are likely heading into a season with a compressed schedule, so it may be more important than ever. But, couldn't Bergevin find a defenceman who is actually signed for next season? Or one that didn't cost a 5th round draft pick? There are a lot of Joel Edmundson type defenders in the league. I don't think it's worth giving up a pick, no matter how late, just for the rights to an unsigned depth defender.
Sebastian H: I really like the acquisition of Joel Edmundson. I think the Habs will have a very competent defensive corps if they can get him signed (on a short term deal, I hope). Edmundson is physical, yet smooth-skating, and he can kill penalties. Sound familiar? He is a very similar profile to Ben Chiarot a year ago, and the acquisition of Chiarot has proven to be a massive success. Both defensemen aren't exactly advanced stats darlings, but considering the heavily defensively focused duties Edmundson was assigned in Carolina, that shouldn't be all that surprising.
While Edmundson is a defensive defenseman first and foremost, his even-strength production was excellent this past season, featuring among the top 60 NHL defensemen in points and the top 32 in goals. This move gifts Alexander Romanov a transitional year in the AHL, where he can learn to play 20+ minutes a night and adapt to the smaller rink with less pressure. While I don't see Edmundson as a long-term Hab, he will bridge the gap until the surge of left defensive prospects (think Romanov, Jordan Harris, Mattias Norlinder and Jayden Struble) make the jump to full-time NHL duties.
Given the wealth of prospects this team already possesses, the 5th round pick was an extremely expendable asset. And that same prospect pool makes the future of this team shine rather brightly; what I love about this move is that our present is looking more and more promising as well. Welcome to La Belle Province Joel (Stanley Cup Champion) Edmundson.
Omar L: I have a lot of questions about this deal, and surprisingly, none of them have to do with Joel Edmundson, the player at all. The Montreal Canadiens aren't the first team to trade for a player's signing rights ahead of free agency.
Just last summer, the Philadelphia Flyers gave up a fifth-round pick to the New York Rangers for the rights to Kevin Hayes, a carbon-copy of the Edmundson deal. The Flyers wound up signing Hayes to a seven-year deal worth $50 million with a $7,142,857 and a full no-movement clause in the first three years of the contract. The deal worked out for Philadelphia as Hayes ended up being one of their key contributors helping the team advance to the second round of the Stanley Cup Playoffs.
My confusion lies with the slight philosophy change. Marc Bergevin has been very reluctant to give up picks during this retool, and the majority of his deals have been either acquiring picks or moving players for players. Marco Scandella was one of the few exceptions, and the Habs wound up getting more value than they paid after shipping him to the St. Louis Blues.
I understand that it's just a fifth-round pick, and by no means does that scream, "Straight to the NHL," but I don't get why Montreal had to make this move if, but the fact that the trade was even happening, Edmundson was heading to free agency.
That automatically makes me think that Bergevin is working on a long-term deal for him within the 7-8 year range. Otherwise, I don't get the trade. I understand the acquisition, but not the movement of the pick to do it. But we'll likely find out more about that later on.
My next question about this is where do the other left-shot defenceman fit in all of this? Edmundson would help stabilize the defence and could slide into a third-pair role or even the second. But the Habs have Brett Kulak there, and he and Jeff Petry have been a fairly steady pairing on the team. Additionally, Ben Chiarot wasn't terrible next to Shea Weber, so where does Edmunson fit?
Does this mean Alexander Romanov isn't on the team next season? Is Victor Mete? Is Kulak gone? He does have a modified no-trade clause, but Is Chiarot gone?
Many will say it'll be good for Romanov to get reps in the AHL, but there may not be an AHL, and if the plan is to allow him to play a season in the KHL, then why bring him to the bubble and burn a year off his entry-level contract? As valuable as having him around the team is, guaranteeing play in North America for the 2020-21 season was the dangling carrot, and the minors are far from a sure thing.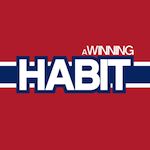 Want your voice heard? Join the A Winning Habit team!
Write for us!
So that's where I'm at with the Edmundson trade, I'm just a little confused, and it's probably best to wait for some conclusions to answer those questions.