Montreal Canadiens: What Will it Cost to Sign Joel Edmundson?
The Montreal Canadiens traded for Joel Edmundson, but what will it take to actually sign him?
The Montreal Canadiens made an interesting trade yesterday. When most hockey fans were getting ready to settle in to watch the Vegas Golden Knights and Dallas Stars face off in Game 4 of the Western Conference Final, the Canadiens jumped into the news with a deal.
General Manager Marc Bergevin sent one of his many draft picks to the Carolina Hurricanes for the rights to Joel Edmundson. The defender is scheduled to be an unrestricted free agent in about four weeks, but Bergevin obviously likes him enough to not wait and risk letting him speak to other teams first.
Clearly, Bergevin wants to get this guy signed, but what will it cost?
Well, Edmundson has proven over the past few years to be a steady, reliable, defensive presence. He was a member of the St. Louis Blues team in 2018-19 that won a Stanley Cup and though he wasn't a key cog in that machine he played his role spectacularly.
Edmundson was typically inside the top four with the Blues that season. His most common playing partners were Alex Pietrangelo and Colton Parayko. Edmundson, at 6'4″ and 215 pounds was the physical, defensive presence on the pairing, but it goes to show he can play an important role on a really good team.
The Brandon, Manitoba native had the fourth most minutes played of the Blues defenders in the 2019 playoffs en route to winning the Stanley Cup. Vince Dunn was closing the gap on Edmundson for ice time on the left side, but Edmundson still routinely saddled up next to Pietrangelo at even strength.
The (sort of) current Habs defender was traded shortly after winning the Cup to the Carolina Hurricanes. They had a deep crop of defenders headlined by Dougie Hamilton, Brett Pesce, Jaccob Slavin and free agent signee Jake Gardiner. A couple of solid young prospects in Haydn Fleury and Jake Bean were knocking at the door for ice time as well.
Once again, Edmundson held off the younger left defenders and earned the fourth most minutes among blue liners on the team. He averaged 18:27 without stepping on the ice for a power play opportunity all year. He was a main piece of the penalty killing unit and often took a regular shift on even strength with Pesce or Slavin but he sometimes found himself on the third pairing with Fleury or Trevor van Riemsdyk.
Edmundson also had a career year offensively, not that offence is his trademark. He scored seven goals and 20 points in 68 games. The 27 year old is known as a shutdown, defensive type, but when you get a point every third or fourth game from a guy you don't expect it from, it is quite the bonus.
The left shot defender can definitely play regular minutes with a great right shot defenceman like Pietrangelo and Pesce. He could fill a very similar role with the Habs by being paired with Petry.
Or, if we are getting really conspiracy theorist here, what if Bergevin is trying to lure Pietrangelo to Montreal by acquiring his former defence partner and their former goaltender, Jake Allen? That's a bit of a leap, so let's not go down that road right now.
If Edmundson does sign, it will likely be to play with Petry on a regular basis and be a key component of the penalty kill. What do you pay someone to fill that role? A number four defender who never sets foot on the power play but is a regular on the penalty kill is worth how much?
Edmundson played each of the past two years on one-year contracts. He earned $3 million in 2018-19 and after winning the Cup he re-signed for one year and $3.1 million. He had a very similar season in 2019-20, but the Canadiens are going to have to entice him enough to avoid becoming a free agent in a few weeks. He has earned a slight raise, but it could take a longer term contract to get him to sign now.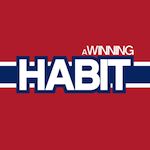 Want your voice heard? Join the A Winning Habit team!
Write for us!
I would say, based on the role he has played the past few years and the job he would step into in Montreal, that a three-year contract worth a total of $10 million would get the job done for both sides. That is an annual cap hit of $3,333,333 which gives him a little raise and a little security until he is 30 years old.