Montreal Canadiens Can't Enter Next Season With Key Players Unsigned
The Montreal Canadiens have several key players unsigned. They can't afford to go into next season without sorting out the situation.
The Montreal Canadiens have not had many difficult contract negotiations in the past couple seasons. Most of their key players, like Carey Price and Shea Weber, have been playing on long term contracts and haven't needed extensions recently.
Max Pacioretty was going to need a new contract a year ago, but general manager Marc Bergevin got ahead of that issue by trading him to the Vegas Golden Knights long before he hit free agency.
So, all has been pretty quiet on the contract negotiation front lately. But that is about to change.
First of all, Bergevin has a really tricky contract to iron out with restricted free agent Max Domi. That will be a tough deal to sort out, but a year from now is going to be a much more difficult time for the Habs GM. A quick glance at the Canadiens capfriendly page shows a plethora of pending free agents following the 2020-21 season.
This list is headlined by the Habs top forward line of Tomas Tatar, Phillip Danault and Brendan Gallagher. All three of them could be unrestricted free agents following next season and Jeff Petry, Joel Armia, Jordan Weal and Jake Allen could join them.
That is a long list of players that could be free agents and doesn't even include Jesperi Kotkaniemi and Artturi Lehkonen who will be restricted free agents at the same time.
That comfort the team has been feeling under the salary cap for the past three seasons is about to disappear.
One thing that Bergevin has to avoid, is entering the season with so many players playing on the final year of their contract without an extension in place. It has happened before in Montreal and did not end well.
Back in the team's centennial season of 2008-09, the team had a number of key players heading into the season on the final year of their contract. It seemed inevitable that Saku Koivu and Alex Kovalev at the very least would sign extensions at some point.
But no. The team suffered through a disapointing regular season before being swept by the Boston Bruins in the opening round of the playoffs. Then, Koivu, Kovalev, Alex Tanguay, Robert Lang, Mike Komisarek and Mathieu Schneider all left as free agents.
The Canadiens were forced into a difficult situation that year. They started the year well and looked like contenders after finishing first in the Eastern Conference a year earlier and adding Lang and Tanguay to a deep lineup. However, they struggled for most of the second half of the season and dropped to 8th in the standings. With all the hype around the centennial season, they were forced to buy at the trade deadline in hopes of a magical run, instead of selling a few pending free agents.
Then, they lost Koivu and Kovalev as well as a handful of other key pieces for nothing in return.
Having that scenario play out again next season would be disastrous. The Canadiens are building something here that could be great soon. But they aren't quite ready yet. They certainly are not a top contender in the Eastern Conference with the likes of Tampa Bay and Boston in their division.
But what do they do if they approach the trade deadline and are in a wild card spot? They can't trade away Brendan Gallagher then. They can't deal Petry or Tatar for picks when they sit in a playoff spot. So, they would keep them all. And then possibly lose most of these players for nothing.
It would be awful asset management to stand pat and take the "wait and see" approach with all these expiring contracts next season. Bergevin has to be proactive and take care of some business sooner rather than later.
That could mean trades. But it could also mean contract extensions. Petry is the oldest of the bunch at 32 years old. It would be wise to try and find a replacement for him via free agency or trade and then move on from the right shot defender. He has been great for Montreal, but will be 33 when his contract is up and he won't be asking for a short term deal.
Either find a trade for Matt Dumba or sign Sami Vatanen and then move on from Petry. Up front, it might be impossible to keep all of Tatar, Gallagher and Danault. With Jesperi Kotkaniemi, Nick Suzuki and Max Domi down the middle, maybe the right player to move is Danault. He would fetch a big return and let's face it, if this team is going to be great anytime soon it's because Suzuki and Kotkaniemi turned into top six centres.
Trade Danault and roll the dice on your young centres. Then there is Gallagher. He is a heart and soul player and plays a position where the Habs already need help. Get him signed to a contract extension right now. Do not hesitate and have a key veteran and leader starting the final year of his contract with no extension in place.
Same goes for Tatar. Yeah, the Habs have a few more options on the left side but Tatar was close to a point per game pace this season. He is 29 years old but has lots of solid, reliable two-way hockey left in him. Aside from one short stint in Vegas, Tatar has been extremely consistent and plays a great game at both ends of the rink. Sign him to an extension as well.
The rest can probably wait. Heading into a season with Armia, Weal, Allen and a couple of restricted free agents to deal with by season's end is no big deal.
The worst case scenario is the team is littered with players in their contract year and the team is just close enough to the postseason picture that they don't sell. Then players like Petry, Tatar, Danault and Gallagher start sniffing the freedom of free agency and decide to dip their toes in the water.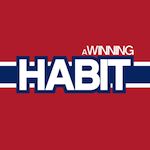 Want your voice heard? Join the A Winning Habit team!
Write for us!
Losing Danault and Petry right now for great returns would sting a little in the short term. But it would be way better than losing a couple of these players for nothing in a year's time. the 2021 offseason may seem like a long way into the future right now, but it is time for Bergevin to act so it doesn't become a disastrous offseason when it does arrive.