Montreal Canadiens Rumours: Are we heading to an all-Canadian regular season?
The format for the next NHL season is still up in the air, and it looks as if the Montreal Canadiens and the rest of the league are heading to another bubble.
It's very premature to start a league-wide talk on the next season considering the second round of the Stanley Cup Playoffs just started. But it's tough for the rest of the teams who are out, including the Montreal Canadiens, to look ahead to next season when there's no plan in place for how to do that. Granted, there are a lot of things that are going to come up ahead of that, like the crowning of a Stanley Cup winner as well as free agency and the NHL Draft.
Similarly to the NBA, the NHL was able to continue its season by making use of a bubble. 24 teams were allowed to enter two teams, and the NHL has done a great job as there have been no new cases confirmed. The obvious downside was that teams were away from their families for a little over a month, but because of the agency of the situation, it seemed like a fair price to pay for a championship.
The regular season is a different story.
According to John Shannon, the NHL and NHLPA have already begun talks on what the format of to 2020-21 regular season will be.
The idea of having four bubble citites is on the table. In this format, all 31 teams will rotate between each of the four cities in eight-game segments. Shannon didn't say whether all the cities will be Canadian, just like the playoffs have gone, but it would make sense to have them all north of the border.
So we could have a season where say the Montreal Canadiens start in Montreal, then transition to Toronto and then Edmonton and so on. Personally, if this ends up being close to the final result, I can see the four cities being Montreal, Toronto, Edmonton and Vancouver.
Again, this is only the first pitch. A big issue that comes to my mind is the family situation. Telling players, they'll need to be away from their family from a minimum of four-to-five weeks is one thing. Being away from them for an entire 82-game schedule per team is something else, and the league is likely going to take that into account when making their plans.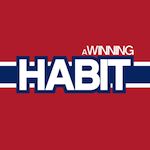 Want your voice heard? Join the A Winning Habit team!
Write for us!
This is only the first pitch on the table, and it'll be interesting to see what the final format will end up being.