Flyers Bounce Back in Game 3, Take Series Lead Over Canadiens
The Montreal Canadiens struggled to make Carter Hart's job hard enough to warrant a win in Game 3 of their series against the Philadelphia Flyers.
After a blowout loss to the Montreal Canadiens on Friday, it was expected that the Philadelphia Flyers would come back with a tighter game plan. Although it was not anything to write home about, they executed well enough to take back the series lead.
Hart finished the night with 23 saves to earn his first career playoff shutout.
Flyers Strike Early
Without a doubt, it was expected that the Philadelphia Flyers would make a big push after a tough performance for them in Game 2. They were the first team to get on the after over five minutes of play with credit going to Jakub Voracek, who was assisted by Claude Giroux and Robert Hagg.
Voracek's goal would be the eventual game-winner.
Scoreless Second Period
Brendan Gallagher's goal drought appears to be further seeping in as the forward's visible frustration is becoming more noticeable. With how often he spends around the crease and over 30 shots on goal since the play-in series, one would think Gallagher would have been due by now.
Flyers Hold on For Win
The final 20 minutes of play were more or less the same for both teams as neither were able to control the pace of the game for significant periods of time. However, the Flyers continued to slow down the Montreal Canadiens, making them unable to take advantage of one of their strengths.
Final Score: Philadelphia Flyers (1) – Montreal Canadiens (0)
Moving Forward
One takeaway that stands out in a positive light for the Montreal Canadiens is the trust that Jesperi Kotkaniemi has instilled in the coaching staff. Not only was he by far the best Canadiens forward on the ice, but he was also the highest in ice-time among them at 19:32 and deservedly so.
The Montreal Canadiens are at their best when they can take full advantage of their speed. They exemplified that best in their 5-0 win on Friday, but that was not the only aspect missing from their play on Sunday night. The ability to finish was also absent, barring a symphony of posts hit throughout the game.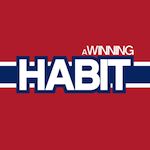 Want your voice heard? Join the A Winning Habit team!
Write for us!
The Montreal Canadiens and Philadelphia Flyers will be looking to tie up their series once again as they take on the Flyers for the first game of their back to back on Wednesday at 3:00pm ET.