The Montreal Canadiens must be wary of relying on historical trends
Winning Game 1 of a best-of-five series has seen that team go on to win it, but the Montreal Canadiens can attest to trends not always working out.
NHL historians had their eyes peeled on the books when the NHL announced that the Stanley Cup Qualifier would take place via best-of-five series'. It's been 34 years since the NHL took a similar format before moving to a best-of-seven series for all rounds of every playoff year. Each format has its respective rules of thumb, but something that will never change is the importance of winning Game 1, and luckily the Montreal Canadiens were able to do that.
There aren't any cliches to fall back on. The losing team can't say, "It's not serious until we lose a game at home," anymore. All games are in the same area for each conference, and the only thing that will change is who gets to wear their home sweaters for the match.
A five-game series raises the stakes even further and makes a good start critical to the eventual result of the series. History shows there's a lot of weight that falls behind, taking the opener of a best-of-five. All you have to do is win three games instead of four.
In the past, 87.5% of teams who won Game 1 went on to win the whole series.
In 1980 teams were 7-1.
In 1981 teams were 8-0.
In 1982 teams were 6-2.
In 1983 teams were 7-1.
In 1984 teams were 7-1.
In 1985 teams went 6-2.
In 1986 teams were 8-0.
The Montreal Canadiens should be ecstatic having won that game against the Pittsburgh Penguins. Carey Price deserves a lot of the credit for keeping them in the match in the opening period, but the Habs started using their speed more, forcing Matt Murray to make chaotic saves in flurries in front of his crease.
However, there are exceptions to the rule, and the Canadiens are beneficiaries of it first hand.
In 1985, the Montreal Canadiens had a best-of-five series against their rival Boston Bruins. This team was led by the likes of Mats Naslund, Mario Tremblay, Chris Chelios and Guy Carbonneau as the Habs were on the hunt for their first Stanley Cup in six years. Unfortunately, that series didn't start off in Montreal's favour.
Boston won Game 1 by a score of 5-3. The Bruins jumped to an early 3-0 lead, but the Habs were able to tie it up in the third period. Keith Crowder and Rick Middleton each scored minutes later, restoring the lead and eventually winning the game. Goaltender Steve Penney ended up allowing 5 goals on 17 shots for a .706 save percentage.
Based on the numbers, you would expect the Montreal Canadiens to be done, but they battled back winning Games 2 and 3. Boston still had some fight in them and forced a Game 5, making that final match a theatrical one.
Only a single goal was scored, and it didn't come until the final minute of the third period. Naslund put the Habs in the lead assisted by Tremblay at 19:09. Talk about a finish. Penney rebounded from his Game 1 performance, getting the shutout stopping all 20 shots faced, and the Canadiens moved on to the next round.
The Habs should be proud of themselves. They shocked many and ruined a lot of brackets who said Pittsburgh would beat them in three games. That said, the series is far from over, and many have been burned in the past by giving up on the Penguins too early. They'll be coming out flying, and relying on Price in a similar fashion could burn them.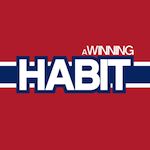 Want your voice heard? Join the A Winning Habit team!
Write for us!
They're on the positive side of history at the moment, but they can't forget the other half of it that saw that team come back in exciting fashion.