Montreal Canadiens: Max Domi On Fourth Line Makes No Sense
The Montreal Canadiens top scorer from last season is now their fourth line centre. That doesn't make any sense.
The Montreal Canadiens made some major changes to their lineup following the 2017-18 season. The team had missed the playoffs by a wide margin after winning their division the previous season. A 32 points drop from 103 to 71 left them with a third overall pick but it was enough to lead to some roster shuffling.
The biggest trade the Canadiens made that summer was trading their captain. Max Pacioretty was in town getting ready for training camp when he was dealt to the Vegas Golden Knights. The Habs received Tomas Tatar, Nick Suzuki and a second round pick in return. It was a great trade for both teams, but should lead to more success for the Canadiens in the future.
Another trade they made, in June of 2018 shortly after the Stanley Cup was handed out to the Washington Capitals, involved a former third overall pick. Alex Galchenyuk was traded to the Arizona Coyotes late one summer evening for Max Domi.
There were plenty of detractors of Marc Bergevin's big trade, considering Domi had scored just nine goals in 82 games the previous season and Galchenyuk had a 30 goal season under his belt. It might not have been a popular trade among Habs fans at the time, but Domi changed everyone's minds with a terrific first season in Montreal.
The son of former Toronto Maple Leafs enforcer, Tie Domi, would lead the Montreal Canadiens in scoring in 2018-19. He set career highs across the board with 28 goals, 44 assists and 72 points. Though Brendan Gallagher led the team with 33 goals, no one on the Habs roster was within 14 points of Domi.
This season was Domi's second in Montreal and it didn't go quite as well as the first. He struggled for long stretched this season, but did still finish third on the team in points. Domi had 17 goals and 44 points in 71 games, trailing just Tomas Tatar and Phillip Danault.
There were questions around Domi's ability to take part in the return to play plan for the NHL. The league was paused for over four months because of the coronavirus pandemic. Domi is a Type-1 Diabetic and there were questions about how risky it would be for him to join his teammates inside "the bubble" in Toronto where the 12 Eastern Conference teams will be playing.
When training camps opened on July 13, Domi was not in attendance but he joined the Habs about a week later. He skated with the extras on a "fifth" line for a couple days before joining Dale Weise and Jordan Weal on the fourth line.
I though he would continue to move up the lineup as camp moved along, but we have a play-in game to play tomorrow and Domi is still the team's fourth line centre. This makes absolutely no sense.
I know Domi joined camp a little later than everyone else, but it's not like he hasn't exercised since the Habs last regular season game in March. Is he really that far behind his teammates with his conditioning that he can only handle a fourth line role? Of course not.
It seems Claude Julien put together a plan in case Domi was not able to play or elected not to suit up. It also seems he didn't really have a plan that included Domi. So, the player who has the most points over the past two seasons combined is on a line with Dale Weise.
The Canadiens do have more centre depth than we have seen in many years. Phillip Danault does a tremendous job on a two-way line with Tomas Tatar and Brendan Gallagher. Nick Suzuki had a great rookie season and has taken over as the second line centre. Jesperi Kotkaniemi has a lot of potential, but had a difficult season as a 19 year old.
Kotkaniemi is skating on a line with Paul Byron and Artturi Lehkonen. If Domi isn't going to be given his top six role back, he should at the very least be on the third line with Byron and Lehkonen. Domi and Byron are similar in that they are both smaller skilled players, but they have absolutely no problem battling anyone for pucks. They are both great skaters, can create offence with the puck and can also put it in the back of the net when given the chance.
Lehkonen is more of a defensive presence on the ice. If Domi has a weakness, it would be in his own end. Lehkonen, and Byron, could take on more defensive responsibilities than wingers are typically tasked with, freeing Domi up to lead the rushing carry the puck out of the defensive zone.
When Domi was acquired, many fans were worried about the fact he had just scored nine goals the previous season. The most common refrain from general manager Marc Bergevin when questioned about the trade was that Domi was a playoff type player who thrived under pressure and would excel in a hockey-crazed city like Montreal. Will he have a chance to do that from the fourth line in his first taste of postseason hockey? No, he needs to be moved up the lineup where he will have better wingers.
Yes, this would put Kotkaniemi on the fourth line. But, the Finnish centre had eight points in 36 games this season. Doesn't that make him more of a fourth line player than the team's highest scorer over the past two years?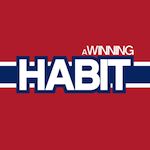 Want your voice heard? Join the A Winning Habit team!
Write for us!
It does to me. The Canadiens are not a team that find it easy to score goals. They have a limited number of players that have the ability to score even 20 goals in a full season. Spreading them out all over their lineup just makes it even harder for those players to create offence. Leaving Max Domi on the fourth line is going to silence one of the team's best offensive players.