Montreal Canadiens: Alex Belzile Gets Chance to Steal Roster Spot From Veteran
The Montreal Canadiens are giving Alex Belzile a chance to show he can help during postseason.
The Montreal Canadiens used a lot of different players this season. Whether it be trades, injuries or performance, there seemed to be a lot of roster shuffling going on from game to game for the Habs in the 2019-20 campaign.
To be exact, the Canadiens used a total of 38 players in their 71 game regular season. Of those 38 players, 34 were skaters and 21 of them were forwards.
None of them were Alex Belzile. However, the 28 year old will be the Canadiens 13th forward tonight, making him the 39th player to wear a Habs sweater this season.
It is not usual for a player to be making his season debut on the eve of the postseason. These are very unusual circumstances, and Belzile has played tremendously well in the Canadiens farm system for the past two seasons. Tonight is technically an exhibition game, but it is the only game the team will play between March 10 and the start of their play-in series on August 1.
I don't think it is an overstatement to say that this is the biggest exhibition game in Habs history. Well, they did play the Russians on New Year's Eve in 1975. That team was about to win the next four consecutive Stanley Cups, but they had plenty of time to ramp up for that after their game against Russia.
Still, there is no question this isn't a typical exhibition game. The Canadiens haven't played in 20 weeks and get one chance to prepare for a short elimination series. Instead of half a team with a bunch of youngsters suiting up, we are going to see basically the playoff lineup tonight.
That is why I was somewhat surprised to see Belzile in the lineup. He hasn't played an NHL game yet in his career, but he has a chance to show his first real NHL contest should be against the Pittsburgh Penguins on Saturday night.
L'alignement pour ce soir. 👊

Tonight's roster.#GoHabsGo pic.twitter.com/Rpidzc6LAK

— Canadiens Montréal (@CanadiensMTL) July 28, 2020
Belzile has been one of the Laval Rocket's best players for the past two seasons. He led the team in scoring a year ago with 19 goals and 54 points in 74 games. He was off to a great start again this year with seven goals and 14 points in 20 games. Unfortunately, his season ended in early December and Belzile underwent pectoral muscle surgery.
It was awful timing, as the Saint-Eloi, Quebec native had scored nine points in his past ten games. The injury and surgery were supposed to end his season, but with the NHL postseason beginning in August, Belzile has had enough time to recover from his injury.
Now, he has a chance to step into the Habs lineup and show he can contribute. He has decent size and is a good skater. He proved over the past two seasons he can be a top line offensive player at the AHL level with the Rocket.
The next logical step is a chance at the NHL level. It is a tough situation for him to try to prove he should be in the lineup when there is just one exhibition game. However, he can play the wing and if there is any spot open on the Habs lineup right now it is for a fourth line winger.
The Canadiens are deep down the middle with Phillip Danault, Nick Suzuki, Jesperi Kotkaniemi, Max Domi and Jake Evans banging on the door for an opportunity. Brendan Gallagher, Tomas Tatar, Jonathan Drouin, Joel Armia, Artturi Lehkonen and Paul Byron are going to play every game of this postseason if they are healthy.
The only real chance for a young player to break in is to steal a spot from Dale Weise or Jordan Weal. Both players spent considerable time in the press box for the Habs this season.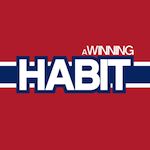 Want your voice heard? Join the A Winning Habit team!
Write for us!
Tonight is Belzile's big chance to prove he can push Weal or Weise back to the press box in the postseason. It will be interesting to see how he is used and how much ice time he gets as the 13th forward. Can he push a veteran player out of the lineup against the Penguins? We will have to watch him tonight and see what he is capable of at the NHL level.