Brett Kulak returning is a win for the Montreal Canadiens
The Montreal Canadiens finally saw Brett Kulak or Xavier Ouellet take to the ice for the first time in training camp ahead of their series opener.
Training camp has been a little odd for the Montreal Canadiens since it opened on July 13th. There were the false-positive cases, Max Domi's decision to wait, and the separate skating group. That skating group was made up of Phillip Danault, Ryan Poehling, Victor Mete, Cale Fleury, and Cayden Primeau. There hasn't been any confirmation on why there was a separate group in the first place, but the fact that we hadn't seen Brett Kulak or Xavier Ouellet yet was worthy of a cocked-eyebrow.
Thankfully, things are looking more positive. Domi has joined the team for camp and is getting eased back into the lineup while Kulak and Ouellet hit the ice for the first time.
Ouellet was likely to be an extra defenceman, but Kulak back is good news for the Montreal Canadiens blueline. Kulak and Jeff Petry have 543 minutes together and were the pairing on the Habs to have to lowest expected goals/60 at 1.93. The only pair to get close was Ben Chiarot with Mete, who had a 1.97 while playing 433 fewer minutes.
They also put up impressive shot suppression stats with approximately nine fewer shots heading towards the Habs net when they're on the ice (via Natural Stat Trick).
The majority of their starts did come in the offensive zone (Petry – 53.1%, Kulak – 51.4%), but Claude Julien did rely on them on both ends of the ice. And when it comes to taking on the Pittsburgh Penguins, they'd likely be getting one of those two top-line assignments, so it's great news to see Kulak back and ready to play.
What this also does is put more pressure on the training camp battle for the bottom pair slots. Noah Juulsen is showing more each day to prove he should get the first sniff on the right. If Kulak is ready to participate in Phase 4, Mete will be slotted in on the left intensifying things and only making one spot available. That may drive the tempo up even further.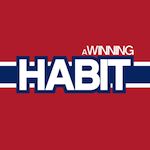 Want your voice heard? Join the A Winning Habit team!
Write for us!
It's still another four days before the Montreal Canadiens have to head out for Toronto and six before their exhibition game against the Leafs. But with Kulak practicing, the Habs can start working on their synergy even more now.