Montreal Canadiens: Do The Carolina Hurricanes Regret Matching Sebastian Aho Offer Sheet?
The Montreal Canadiens tried the offer sheet route to acquire star talent a year ago. Do the Carolina Hurricanes regret matching the offer?
With apologies to Saku Koivu, the Montreal Canadiens haven't had a star first line centre for decades. Kirk Muller played that role in 1993 while leading the team to their last Stanley Cup. Pierre Turgeon was excellent but only played about 100 games in Montreal. Koivu was somewhere between really good and great, but wasn't ever a top 10 centre in the league at any time.
Realizing this was a chasm that the Habs needed to fill, Marc Bergevin tried an unusual route to acquire an elite centre a year ago. The Habs general manager tried the offer sheet that hasn't been attempted much at all lately, and hasn't been successful since Dustin Penner went from the Anaheim Ducks to the Edmonton Oilers in 2007 and Brian Burke challenged Kevin Lowe to fight him in a barn. Seriously.
I guess Bergevin, the founder of the Bicep Club, wasn't worried about having to take on Don Waddell in a barn fight.
Last July 1, the Habs signed Sebastian Aho of the Carolina Hurricanes to an offer sheet. The 21 year old centre was coming off a 30 goal and 83 point season and would have filled that role of first line star centre that has been void for some time in Montreal. Aho signed the five-year contract with a cap hit just shy of $8.5 million.
Aho agreed to the deal and signed with the Habs, but due to his age he was a restricted free agent. This meant the Hurricanes had the option of matching the contract and keeping their young star, or letting him join the Canadiens and take compensation of 1st, 2nd and 3rd round picks in the 2020 NHL Draft.
Hurricanes management, headed by general manager Don Waddell, Vice President of Hockey Operations Rick Dudley and owner Tom Dundon quickly, not immediately, but pretty quickly spat to the media that it was the easiest decision ever to match the offer. It took them six days to actually match the offer. If it was such an easy decision, why did it take six days to say, "yeah, we'll match that" when it took the Canadiens minutes to draw up a long-term deal with some enormous perks?
It was these enormous perks, most notably the huge signing bonuses in the first two years, that led the Habs to believe they had a chance to steal Aho away from Carolina. The Hurricanes have struggled with attendance pretty much since they moved the team from Hartford in 1997.
The Hurricanes ranked 28th in home attendance out of 31 teams in 2018-19. Before that, they were 29th, 30th (out of 30), 30th (out of 30) and 29th. The year after they won the Stanley Cup in 2006, they jumped to 15th in the league in home attendance. That was the only season they were ever in the top half of the league in attendance. So, if they just win the Cup every year, they could have a league average fan base.
Bergevin figured if he put some huge signing bonuses in the early years of the contract, it might not make sense for a team that can't attract fans to make such a huge financial commitment to a young player.
Aho's contract called for a signing bonus of $11.3 million immediately upon signing last summer, with just a $700,000 salary for the season. He would then get a signing bonus of $9.87 million a year later, which is this week, and again earn a minimum wage salary for the duration of the season. A year from now, he will get another bonus of $6.95 million and in the final two years his bonus is $5.25 million per season.
The Hurricanes went on a solid playoff run last year, losing in the Eastern Conference Final. This resulted in their ticket sales increasing and bringing them super close to moving out of the bottom ten in league attendance. That's actually a huge jump which, if not for a global pandemic, might have made it a little easier for the team to justify the huge price tag for Aho.
Now, Aho is a terrific player who once again had a terrific season so every Hurricanes fan in the world, or the few dozen or so in North Carolina, loves the contract and the fact the team kept Aho. Of course the fans love it, they don't care about Tom Dundon's financial status.
But a year after Dundon's "easiest decision ever" the question has to be asked, do the Carolina Hurricanes regret keeping Aho at that contract? From a business and financial point of view?
Let's look at that contract a little closer right now. The Hurricanes had to give Aho $11.3 million last July. His salary was just $700,000 so that makes a total of $12 million exactly going to the young, Finnish centre. The team averaged 16,905 fans per home game and hosted 33 contests before the season went on pause. That means they sold 540,975 tickets in the 2019-20 season.
I don't know exactly what the average ticket price is at a Carolina Hurricanes home game, but I do know that $22.18 of every ticket sold went to Sebastian Aho's bank account. Again, I don't know what the exact ticket prices are in Carolina, but I do know that if you wanted to get into the PNC Arena nosebleeds for a Tuesday night game against the Columbus Blue Jackets, you can pay with Monopoly money.
I kid, obviously. However, the average ticket price in Carolina would come in a little less than $100, so they paid about a quarter of their ticket sales to one player this year.
Now, with the 2019-20 season being delayed because of Covid-19, not only will the Hurricanes lose out on eight home games worth of revenue, but they also had to pay Aho $9.87 million earlier this week for next year's signing bonus.
So, the Hurricanes haven't even finished one season with Aho under this new contract, and they have given him $21.87 million. Do I have to remind you again that Hurricanes fans currently are bragging about their attendance going up to 22nd in the league? Having the 22nd most fans is a terrific year for them.
Since all of that money has to come out of last year's revenues, that means the team had to pay $40.43 from every ticket sold directly to Aho. So, virtually half their ticket revenue from the 2019-20 has gone to pay one player. A great, a player that fans love and can't imagine being without. But is the owner getting a return on that investment?
NHL teams are loathe to release financial data and even if they do, you can't really trust what accountants and lawyers for a business publish about their own business. Due to that, we don't know exactly how much money the Carolina Hurricanes earned this season. We do know they missed out on 19.5% of their home games and they were the games late in the season that matter the most with playoff hopes on the line. That costs the Hurricanes dearly.
We can't put a dollar amount on that, but we do know in the past week the team wasn't able to extend Rick Dudley's contract. The VP of Hockey Operations is now a free agent in the middle of a season.
The team also couldn't come to terms with John Forslund, the team's play-by-play announcer who has been with the organization since they were the Hartford Whalers and is widely considered one of the best in the business.
Is it a coincidence that the Hurricanes can't come to terms on a contract extension with Dudley and Forslund? Or can they simply not afford to pay them what they are worth?
Two years ago, when the team was in search of a new general manager that would become Waddell, it was reported the biggest holdup in finding someone for the job was the embarrassingly low salary offer coming from Dundon.
That was before they had to give out extravagant salary bonuses to Aho. Now, there is no way you can give a cogent explanation that leads one to believe the Hurricanes are making piles of money this year. Especially not with the huge money they are giving Aho.
Had the Hurricanes just decided not to match the offer and handed Aho to the Habs, would they be in a better spot? I know Hurricanes fans are going to think this is ridiculous because they love Aho, but from an owner's financial perspective, has it been worth keeping Aho? Of course no one knew a global pandemic was on the horizon, but it did happen and it affects the Hurricanes bottom line greatly.
Is Dundon wondering what could have been if he let Aho go?
The draft lottery couldn't have helped Dundon sleep better at night. If the Habs had Aho this season, they would have been a better team and the Hurricanes would have been worse. The Habs ended up 24th, so there is no way, even with Aho in the lineup, they keep up with the Boston Bruins and Tampa Bay Lightning and have a bye through the play-in round.
Imagine being the Carolina Hurricanes knowing you get the Habs pick this year. That would give them two tickets to the Alexis Lafreniere show in August. Part 2 of the draft lottery will be high drama as the eight teams that lose the play-in round have a 12.5% chance of winning the first overall pick and selecting Lafreniere.
How awful would it be for a Habs fan right now if their first round pick was property of the Carolina Hurricanes? How great would it be to be a Hurricanes fan knowing you could move on into the playoffs and win the first overall pick?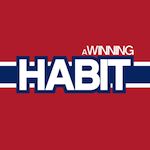 Want your voice heard? Join the A Winning Habit team!
Write for us!
I can't look into Tom Dundon's financial statements and I can't peak into the unknown and find out who would have won the draft lottery if the Habs had Aho all year and the Hurricanes didn't. However, I can be reasonably sure, Tom Dundon would trade Sebastian Aho for Alexis Lafreniere and the $22 million dollars he spent on his young Finnish star in the past 12 months.