Montreal Canadiens: NHL Running Out of Time To Properly Organize Return to Play
The Montreal Canadiens will be returning to action in the next few weeks. But details are sparse considering how close we are to seeing NHL games.
The Montreal Canadiens are set to return to action fairly soon. When the NHL calendar, like most of the world, went on pause in March, fans waited anxiously to find out when we would see hockey action again.
Eventually, the NHL made a big announcement about the format that we would see when the players finally took the ice, but they fell short in answering many pressing questions.
While we have known for weeks that 24 teams will return to action in two hub cities and the top eight teams get a bye to the playoffs. We also found out the next 16 teams will take part in play-in series to see who else moves into the playoffs to join the elite eight.
However, we didn't know, and still don't know where those hub cities would be. We had no idea when we would actually see the teams land in these cities. We had no idea how the league figured they could keep their players and team staff safe from the global pandemic that is hitting the United States hard at the moment.
Now, with the calendar about ready to flip to July, we still don't have any more answers. Oh, well we do know that a mystery team will win the draft lottery. While the even worst teams in the league will draft between second and eight overall, one of the teams ranked between 9th and 24th in the standings will get to select first overall.
We do know that training camps are scheduled to open on July 10. We never got a firm answer to where they would take place. Would it be 24 different cities who then move to a hub city or would everyone's training camp take place in the hub cities? It seems like there will be training camps in 24 different cities and then 12 teams will travel to each hub city.
When? Don't know. How long is training camp? Don't know. Right now, there are five or six Canadiens players in Montreal, skating on the practice facility ice. With training camp scheduled to begin in just ten days, shouldn't all players be in town and at least semi-quarantining for two weeks before officially opening training camp?
Now, even before the league answers all of those pressing questions, like where are the hub cities and when do actual games take place, they have decided to start negotiating a new collective bargaining agreement.
That would be like planning a wedding for the long weekend in August in the midst of a pandemic and then deciding in June to move to a new city in July.
The NHL has made a very difficult situation even more improbable. They still haven't decided if salary bonuses that are due tomorrow will be paid out or not. That seems like an important wrinkle to iron out before asking players to travel from Europe to show up for training camps in North America next week.
Hub city talk aside — anecdotally, BTW, there's been an uptick in EDM chatter— today is a critical one for NHL/NHLPA negotiations on RTP and CBA. Still unclear whether July 1 signing bonuses will be paid out tomorrow as scheduled or deferred to a later date.

— Bob McKenzie (@TSNBobMcKenzie) June 30, 2020
For example, the New York Rangers owe Artemi Panarin a $12 million signing bonus on July 1. I'm guessing he won't be too happy if he finds out later today that his $12 million deposit won't be showing up in his bank account tomorrow.
But hey, can you book a flight from Moscow to New York for Monday? We really need ya for this play-in series against the Hurricanes.
The league spinning its wheels on these issues are sure to cause friction with the players. Carey Price is due to be paid $8.75 million tomorrow. We heard him talk last week about how the virus hit close to home when a friend his lost their mother to Covid-19.
Less than a week later he has to say goodbye to his two children and pregnant wife for … weeks? Months? To be in … Montreal? Toronto? Vegas? Edmonton? Maybe Chicago? And now the owners don't want to pay him the money they agreed to in contract negotiations? That's going to rub some players the wrong way.
Trying to throw some CBA negotiations into the middle of the return to play negotiations is going to turn sour quickly. I'm not saying the league won't be back when they originally announced, but I do think the next ten days are going to see some ugly negotiating between the owners and the players.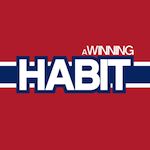 Want your voice heard? Join the A Winning Habit team!
Write for us!
Especially if the owners think they can get away with not paying out salary bonuses tomorrow. We saw MLB go through an all too public CBA negotiation in the past several weeks. The NHL's version could be coming very soon.