Montreal Canadiens: New season dates and projections for the salary cap
After the 2020 NHL Draft Lottery, we now have dates for the Montreal Canadiens this season and numbers on the salary cap ceiling.
The 2020 NHL Draft Lottery can only be described as chaos. Not only did the Detroit Red Wings and Ottawa Senators both fall lower than they hoped, but one of the placeholder teams has an opportunity to win the whole thing. The Montreal Canadiens will have a chance to do so if they are eliminated from the Stanley Cup Qualifier.
As exciting as that is, that wasn't the only thing to come out of the NHL Draft Lottery event Friday night. We also got a lot of information about the future of the NHL from Sportsnet's Elliotte Friedman on "In Conversation" with Ron Maclean and Sam Cosentino.
Hub Cities and the CBA
Players are going to be doing a lot of voting next week. After Vancouver was taken out of the running as a hub city, for the time being, it looks as if it's going to come down to Vegas, Edmonton and/or Toronto.
Vegas has pretty much been confirmed already despite there being talk of both hub cities being in Canada. However, it seems like Toronto may be the second city, with players not being receptive to the idea of playing in Edmonton.
If it does end up being Vegas and Toronto, the former will host Western Conference teams while the latter does Eastern Conference, teams.
Further voting is going to take place for the Return to Play Protocol for Phases 3 and 4 as well as a new Collective Bargaining Agreement (CBA). Phase 3 concerns Training Camp, whereas Phase 4 is for the restart of the season. Friedman also believes that although the NHL has already set July 10th as it's training camp date, that it could be pushed back to the 13th because of the possible time, it takes for voting.
Phase 4
This is what hockey players and fans have been waiting for. The target date for the restart of the season is July 30th, one day before the NBA and MLS are expected to be. There's going to be a lot of hockey played in that time frame, and the league is targeting an October 5th date as the last possible day for the Stanley Cup Final with perhaps November 1st being the opening of free agency.
Salary Cap
Friedman began by talking about the E-word (ironic as Team E won the draft lottery) that players hate: escrow.
Artemi Panarin has been vocal on his displeasure of escrow, and it's been made public that it's something owners and players have gone back and forth on. For a quick refresher, escrow is a percentage of salary taken from a player that they may or may not get back. It may not be as costly for players making double-digits, but those on league-minimum deals are more impacted.
There were worries earlier that escrow could go as high as 35%, but according to Friedman, the new CBA will cap escrow at 20%.
And then there's the salary cap. We all expected the cap to stay flat with the loss of revenue due to the poss, and that's exactly what is going to happen.
2020-21: $81.5 million
2021-22: $81.5 million
2022-23: $82.5 million* (possible increase, but not confirmed)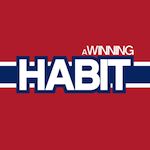 Want your voice heard? Join the A Winning Habit team!
Write for us!
A lot to take from this, but dates and salary numbers are key. Confirmation of a flat cap is going to put teams in distress, and it'll be crucial for the Montreal Canadiens to be smart with their deals moving forward, especially with their current and future core coming up contract-wise.