Jesperi Kotkaniemi is joining the Montreal Canadiens, where will he play?
There were signs and whispers of Jesperi Kotkaniemi being able to play for the Montreal Canadiens for the Stanley Cup Qualifier, and now it's confirmed.
The journey of Jesperi Kotkaniemi is getting a new chapter that will see him back with the Montreal Canadiens.
After making the team for his sophomore season and being on the wrong end of injuries, the Habs made the decision to send the 19-year-old down to the Laval Rocket. Kotkaniemi put up 12 points in 13 games in the AHL before being taken out with a spleen injury. Fortunately, he didn't require surgery, but instead rest and fans were getting signs of his progression at home in Finland.
A Finnish podcast leaked that Kotkaniemi was returning to North America with a number of other NHL players hinting at a possible return to the team for their series against the Pittsburgh Penguins. Despite not playing many games, the Habs are a better team with Kotkaniemi playing at his best, and with improved strength and skating, the difference may be immediate. And thanks to The Athletic, we have confirmation that Kotkaniemi isn't coming over to train but to play.
This comes from Arpon Basu (paywall), who shared details from a Habs source who said that Kotkaniemi is available to participate. Another interesting piece of information is that although Montreal's staff couldn't directly see Kotkaniemi in Finland, they were checking on him via reports from Finnish doctors.
The question now is whether Claude Julien finds a way to put him in the lineup. The Canadiens initially sent Kotkaniemi to the AHL to gain confidence, and it looked as if he was grabbing all he could in his stint down there.
At the same time, the decision to put Kotkaniemi in the lineup could impact where Max Domi plays. Julien could stretch things out and move away from his usual expectations from a fourth line and play him down there, giving every line an offensive threat. He could also slot Kotkaniemi in his usual third-line spot and push Max Domi to the wing.
Domi has said in the past that he'll play wherever the team needs him to play, but it's clear he's more of a threat at centre as he can have the puck more. Additionally, his best season ever came at centre.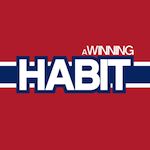 Want your voice heard? Join the A Winning Habit team!
Write for us!
It'll be a series of decisions for the Montreal Canadiens to make. However, the fact that Jesperi Kotkaniemi seems to be cleared to play is nothing short of a positive for the organization and the sophomore looking to end his season on a positive note.