Montreal Canadiens: If Kevin Lowe is a Hall of Fame Defenceman, so is Roman Hamrlik
The Montreal Canadiens have dozens of Hall of Fame players, but if Kevin Lowe sets the bar for induction, there are many, many more Habs who have been overlooked.
The Montreal Canadiens players, coaches and general managers line the hallways of the fabled Hockey Hall of Fame in downtown Toronto. When your team has the history and tradition of winning like the Habs do, it makes sense that many of the people who built and played on those championship teams have been enshrined in the Hall of Fame.
A selection to the Hall of Fame is supposed to be held for those who dominated on the ice and in the boardrooms of the hockey world. It is for the greatest players to ever lace up skates like Howie Morenz, Jean Beliveau, Maurice Richard, Gordie Howe, Wayne Gretzky, Mario Lemieux, Patrick Roy, Joe Sakic, Steve Yzerman and someday in the not too distant future, Alex Ovechkin and Sidney Crosby.
They are players that defined their era. They dominated their time. When you think back to the high scoring 1980's, the first players you think of are Gretzky and Jari Kurri, Lemieux, Bryan Trottier, Denis Savard and they all eventually took their rightful place in the Hall of Fame after retiring.
They were the best players at what they did for many, many years. Some won many Stanley Cups, others like Marcel Dionne were not so fortunate, but still earned their induction into the Hall of Fame by being one of the most feared goal scorers of his time.
Peter Stastny and Michel Goulet are a little less heralded but were fearsome scorers during the 1980's as well. It was an era that saw Ray Bourque and Paul Coffey put up eye popping numbers. Mark Messier, Dale Hawerchuk, Mike Bossy, the list goes on and on …. and on and on and you still don't get to Kevin Lowe.
However, yesterday when the Hall of Fame selection committee made the announcement of the 2020 class, along with Jarome Iginla and Marian Hossa being elected while on the ballot for the first time, Kevin Lowe joined them … after not being chosen for the past 19 years. It always struck me as odd when a player's accomplishments weren't impressive enough for the Hall of Fame for, in this case, nearly two decades, but then they suddenly are good enough.
Kevin Lowe retired from playing in 1998 after a lengthy career with the Edmonton Oilers and New York Rangers. Lowe played a total of 19 seasons in the NHL and suited up for 1254 games in that time. That ranks 88th all-time and is an impressive feat. It certainly doesn't make one a Hall of Fame player, otherwise Radek Dvorak would be next, but it is noteworthy.
So, what did make Lowe a Hall of Fame player? It has to take more than just games played. Lowe made his NHL debut in the 1979-80 season and had the good fortune of landing with the Edmonton Oilers. He played the 13 seasons in oil country. That means he played the entire decade of the 1980's with the highest scoring team in hockey history. He must have had tons of points, right?
Not exactly. Lowe's high water mark in the points category came in 1983-84 when he had 46. This was a season where the Oilers set the NHL record for goals scored with 446. That means, at his peak, Kevin Lowe had points on 10.3% of his team's goals. Ben Chiarot had points on 10.1% of the Canadiens goal this season, so that gives an indication of how integral Lowe was in the Oilers's high powered attack.
So, he wasn't an offensive dynamo. In fact, even though he played every game in the highest scoring decade of hockey with the highest scoring team in hockey's history, he finished the 1980's with 310 points in 760 games. That put him 31st among defencemen in scoring for the decade.
The 31st highest scoring defenceman in the 2010's was Matt Niskanen. Perhaps he will get a call from the Hall of Fame 19 years after he retires as well.
Actually, Niskanen is probably a good comparable for Lowe. A steady, mostly defensive defenceman who can play on a good team's top four, isn't necessarily ever a top pairing defenceman but can be decent on a really good team. Niskanen was part of a few really good Pittsburgh Penguins teams, playing top four minutes and was a second pairing defender for the Washington Capitals when they won the Stanley Cup in 2018.
That is pretty much what Lowe was. A steady, reliable defenceman but nothing flashy or fantastic. And he stuck around for a really long time. If you were to compare him to a recent Montreal Canadiens defenceman, he would probably be closest to Roman Hamrlik.
Nothing flashy there, just good reliable hockey for a long, long time. Hamrlik even scored over 40 points three times between 2000 and 2004 in the deadest of the dead puck era. Lowe scored more than 40 points once in his entire career while playing for the team that scored the most goals ever.
When Lowe had 46 points, the Oilers had 446. Hamrlik scored 65 for the Tampa Bay Lightning in 1995-96 when the team only scored 238. Almost half of what the Oilers were doing in Lowe's prime.
Actually, Hamrlik's 638 points in 1395 games from 1992-2013 is far more impressive than Lowe's paltry (by 1980's standards) 431 points in 1254 games from 1979-1998. Hamrlik, like Lowe, was also a reliable defensive player throughout his career. He was often tasked with mentoring young players like Dion Phaneuf and P.K. Subban, acting as the defensive conscious on the ice while those young stars learned the ropes of the NHL.
Now, let's get serious, I'm not saying Roman Hamrlik belongs in the Hockey Hall of Fame. But if they are choosing to set the bar by voting in Kevin Lowe, maybe we have to look at past Habs players differently as well. Maybe the Hall of Fame isn't this hallowed place for the greatest players of their era. Just hanging around and not being terrible for a long time must be good enough.
What else could it be? Lowe did win a lot of Stanley Cups in his time. He was on the Edmonton teams who were one of the best dynasties since the NHL's big expansion in 1967. He won five championships with the Oilers and had his name etched on the Stanley Cup once again when the New York Rangers won in 1994.
But if just getting your name on the Cup a handful of times is enough, then when will Claude Provost get in? He was a depth piece on some of the greatest teams of all time when he played for the Habs in the late 1950's. He stuck around through the 1960's and won the Stanley Cup a total of nine times. If Lowe winning six makes him a Hall of Fame player, why isn't Provost?
He played over one thousand games, has won the Stanley Cup more than anyone other than Henri Richard and Yvan Cournoyer and was named a First Team All-Star in 1965, beating out Gordie Howe on right wing. That gives him more individual accomplishments than Kevin Lowe who was never even a Norris finalist. Provost was also the very first winner of the Bill Masterton Trophy.
Lowe did once represent his country on the ice in the 1984 Canada Cup. Now, I don't want to cast aspersions on him for that, but the team was picked by Edmonton Oilers Head Coach Glen Sather and Edmonton Oilers Assistant Coach John Muckler. In a maneuver straight out of small-town Peewee Selects, the team would feature four Edmonton Oilers on defence. Again, I'm not saying there was a bias, but Lowe, Randy Gregg and Charlie Huddy were on the team, while Brad Park, Larry Murphy and Rob Ramage were not. Denis Potvin being injured at the time also helped.
Lowe couldn't make the Canada Cup team three years later, being beat out by not Hall of Famers like James Patrick, Craig Hartsburg, Normand Rochefort and Doug Crossman. That's not to say the aforementioned are awful defencemen, they just aren't Hall of Fame members.
But Kevin Lowe is. The guy who played the entire decade with on the highest scoring team ever, and was outscored by Robert Picard, Moe Mantha, Mark Hardy, even teammates Charlie Huddy and Reijo Ruostalainen (who only played six years) scored more than Lowe in the 1980's.
Lowe was far from the best offensive defenceman in the world at any time. If he was close to the best defensively, he would have made the Canada Cup in 1981 or 1987 or 1991, but he didn't.
So, what makes him a Hall of Fame player? That he won a lot? Well then Claude Provost should be in next year. Is it that he played so many games and was a top four defenceman most of that time? Well if that's what makes a player Hall of Fame worthy, let's get Roman Hamrlik in next year.
It's not like Lowe has accomplished so much in the 19 years since he retired that he has improved his resume. In fact, the way he ran the Oilers from the management side should give him demerits from the Hall of Fame.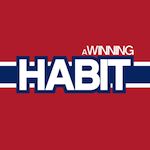 Want your voice heard? Join the A Winning Habit team!
Write for us!
There are dozens of former Habs players already in the Hall of Fame. However, if Kevin Lowe qualifies, there are many, many more Montreal Canadiens players who need a second look.