Montreal Canadiens free agents are getting contract extensions (sort of)
The NHL needs a way to create a timeline for free agency, and it looks as if Montreal Canadiens' free agents such as Max Domi are going to get extensions.
These are unprecedented times (a line you've most likely read over 5000 times by now). The NHL is finally starting to vote on some things pertaining to the Return to Play plan, but other events such as Free Agency and the NHL Draft are still up in the air. What makes the former more complicated is the fact that players such as Montreal Canadiens RFAs Max Domi and Victor Mete would've had their deals expiring in a week.
If things were normal, the 2020 NHL Draft would've already taken place, and we'd be in that semi-open week where teams could start negotiating with other organizations for contracts. Generally, player contracts expire on June 30th, opening the door for Free Agent Frenzy while the date for RFAs to sign qualifying offers would've passed already. With there not even being any hockey, there has to be some sort of adjustment.
CapFriendly switched hats from being capologists to insiders Monday afternoon tweeting that the expiration on player contracts will be extended to late October or early November.
If so, that would match up well with what the NBA is doing. The basketball league has already confirmed dates for both their draft and free agency, which will take place on October 16th and 18th, respectively. If the NHL wants to follow suit, CapFriendly's information falls in line with that plan or, at the very least, having it a couple of weeks later heading into a January start to next season if it's possible.
With the NHL seemingly having that time frame for the organizational events, October may be bigger than we thought. It could also have the window for buyouts, which will likely include a compliance buyout of some kind and also include deadlines for qualifying offers (QOs).
Teams must sign pending RFAs to QOs before a certain date to retain their rights. If one is not signed, the player's contract ends, and they become a UFA and are free to sign with any team. That's what happened with Daniel Carr, who the Montreal Canadiens, in a polarizing move, let go while he went on to sign a deal with the Vegas Golden Knights.
Including Max Domi and Victor Mete, the Habs have 11 RFAs to make decisions on. Some are no brainers such as the aforementioned two, as well as Jake Evans, while others could go either way.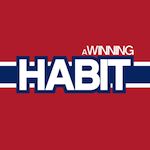 Want your voice heard? Join the A Winning Habit team!
Write for us!
With the state of Montreal's cap structure, they will be an interesting team in October for all these things to take place. But it's really starting to look like the 10th month of the year will be the NHL's month of chaos and action.