Canadiens: Yevgeni Oksentyuk is Worth a Look in This Year's NHL Draft
Yevgeni Oksentyuk is a name most wouldn't expect much from. After an excellent junior season, though, I think he's worth a look for the Montreal Canadiens.
I'll be honest, Yevgeni Oksentyuk is a name I didn't expect to be following over the course of this season, much less an option for the Montreal Canadiens at the NHL Draft.
In June of last year, I took the time to check out the Montreal Canadiens annual development camp, where the team's top prospects and odd tryouts look to impress the Canadiens coaches. For the most part, all eyes were on the team's top picks in that year's draft, like first-rounder Cole Caufield and second-rounder Jayden Struble, as well as current Habs rookies Nick Suzuki and Ryan Poehling.
The tryout players mainly consisted of AHL forwards who had impressed with the Laval Rocket, like Connor Lacouvee and Alexandre Alain, and backups and reserves from a number of different development leagues. Yevgeni Oksentyuk was one such player, and the Belarus native was one who you wouldn't have expected much from at first glance.
As a country, Belarus has always struggled to achieve recognition on the International hockey stage. In total, it's only produced 12 NHL players, including former Habs draft, picks the Kostitsyn brothers and Mikhail Grabovski. They're most famously known for their upset victory over Sweden in the 2002 Winter Olympics, and a subsequent fourth-place finish in the tournament.
At the 2018 World Junior Championships, Oksentyuk was a standout player on a weak Belarussian team with little fanfare. He recorded 6 points in 5 games demonstrating impressive puck handling abilities and a confidence not seen in most players his age. At the time, Oksentyuk had been a regular on the country's junior teams and had finished his first full season in Belarus's native league, recording 18 points in 49 games.
Despite not seeing much ice time, Oksentyuk impressed. The 19-year-old displayed similar offensive abilities in the camp's scrimmages, giving it his all in a setting that players like Caulfield and Suzuki rightfully considered to be a warmup. Following this, Oksentyuk opted to enter the 2019 CHL import draft after being passed over in that year's NHL entry draft. The OHL's Flint Firebirds, who had just come off a dreadful 16-46-6 season, selected him fifth overall.
I was able to follow parts of Oksentyuk's season on and off this year, as he slowly but surely caught the eye of multiple NHL teams. Playing alongside former first-round pick and current Dallas Stars prospect Ty Dellandrea, Oksentyuk put up 78 points in 58 games, leading the Firebirds in scoring as the team improved drastically with a 40-21-2 record this year. Most famously, he was one of many players this season to pull off the Michigan move first used by Mike Legg, cradling the puck on his stick, and tucking it into the top corner.
At 5'8″ and 163 pounds, size is always going to be the main issue for Oksentyuk. He will have to deal with the "bigger is better" stipulation that, while slowly changing, will plague the NHL pretty much forever. Despite this, he's shown a confidence and work ethic that could lead to him filling out should an NHL team select him. He's obviously a player who loves the game and wants to prove to teams that he's capable of playing at the next level.
In many ways, Oksentyuk reminds me a lot of current Chicago Blackhawks star Alex DeBrincat, who most thought wouldn't be able to succeed in the NHL at a similar 5'07 and 165 pounds. Instead, Debrincat has become one of the Blackhawks' best players, and a building block for a rebuilding franchise. Players like that make me think Oksentyuk could be a similar story, and worth a third or fourth-round pick at least. Possessing a powerful shot, great vision, hands, and playmaking abilities, Oksentyuk has all the makings of a talented forward minus his small stature and current over ager status.
Players like David Desharnais and Brendan Gallagher have shown that smaller players can work in the Canadiens system, and having a flashy young player who's looking to impress could bring some life to a Habs team that often seems lacking in it. Putting him with Suzuki and a similarly offensive player on the third line could lead to some nice chemistry as well, similar to how Oksentyuk and Dellandrea have functioned this year.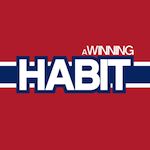 Want your voice heard? Join the A Winning Habit team!
Write for us!
Of course, whether there will even be an NHL season next year remains to be seen, but I think Oksentyuk is still worth a second look for a Canadiens team that originally passed him over. He took a risk coming to North America, but it paid off, and he's become one of the shining stars on a weaker Firebirds team. Should the Canadiens find themselves in the third round of this year's draft, I believe Yevgeni Oksentyuk would be a name worth calling.