Montreal Canadiens: The NHL has a new target date for training camp
With Phase 2 already beginning, the NHL has now released a target date for the Montreal Canadiens and the rest of the league to begin Phase 3.
This week has seen players around the league return to the ice in groups of six per the rules of Phase 2 of the Return to Play Plan. As the Montreal Canadiens only have three of their players still in Montreal, their training facility has yet to open. But owner Geoff Molson confirmed it would begin to open this Monday as players start to return to the city.
Phase 2 is in place to get the players back on the ice, whereas Phase 3 details the re-opening of training camp, and we officially have a target date for that.
According to Chris Johnston of Sportsnet, the NHL is hoping for Phase 3 – the start of training camps – to begin on July 10th. If everything goes according to plan and there are no setbacks, this would have the continuation of the 2019-20 season – Phase 4 – begin at the beginning of August. The timeline there makes sense as both the National Basketball League (NBA) and Major League Soccer (MLS) have already confirmed their respective restart dates.
It's an odd feeling as it really does feel now that hockey is on its way back to our screens. However, a number of things need to play out between now and then for that to take place.
What's going to be interesting is how the league decides to handle a large group of players on the ice during training camp. Phase 2 has a maximum amount of players that be on the ice and work out together. But the coaching staff hasn't been allowed to be a part of that having players either have to do ad-lib play or coach themselves to establish some kind of structure.
Hopefully by then, there are enough safety measures in place to facilitate the increased number. At the same time, the Montreal Canadiens will hopefully hear word from their doctors on whether it's safe for Max Domi to participate. Marc Bergevin rightfully said the Habs would leave it in their hands as to whether he will play or not. And if it isn't, they'll make the appropriate decision.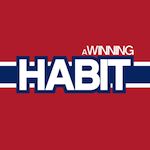 Want your voice heard? Join the A Winning Habit team!
Write for us!
It's one step in the right direction for when the Montreal Canadiens will be back. And as Johnston said, at the very least, it's another month and a half before we get that.