Gallagher and Byron ready and motivated for Return to Play
Montreal Canadiens forwards Brendan Gallagher, and Paul Byron believes this was the best scenario for a return to action and one that seems fair to all.
After Marc Bergevin had a chance to speak to the media yesterday and give his thoughts on the agreed format, it was time for the Montreal Canadiens player reps to voice their opinions. Both Brendan Gallagher and Paul Byron were part of 31 team rep committee who had been working tirelessly to find a way to bring hockey back.
Paul Byron got the ball rolling, answering a question, "Why do you think it's a good format?".
I am not particularly on the committee that came up with the idea but we do know it took a lot of work and a lot of hours spent to come to this conclusion, everything was on the table how many teams, the fairness, the competitiveness and that's how we came to the format that everyone thought was a good idea for the league, we were missing 10-12 games and no scenario is perfect for everyone, there was a lot of teams last year that were low in the standings and didn't make the playoff, the teams voted for it and that was it
Brendan Gallagher added his thoughts to the question saying:
For the first 2 months I don't think it was anyone first choice, I think the first choice was to finish the regular season as is and be able to pick up a playoff format, but as time went on things became less and less likely so you have to get creative which is the only opportunity that works for the league, the players and gives everyone a fair opportunity.

And not taking that opportunity from a team with 10-14 games to go who could have made a push for the playoffs and it gives everyone who was in that mix a chance and obviously there is a few teams like ourselves that kinda been given a second life and you try to take advantage the best you can if all goes well, this is also a situation where have agreed to play but there is still a lot more details to cross obviously things to talk about as you go on in terms of coming up to the cemented plan".
Gallagher also took the opportunity to inform the Montreal media the next steps need to be taken to ensure everything works.
I think first and foremost is player safety, staff, and coaches who are going to be involved, that has to be the first priority. I think that's what everyone is talking about and how it's going to be dealt with and as soon as we can assure the players and everyone that is going to be around the team that they are going to be safe, you go forward from there and there is a lot of little details but I think that's probably the major one and then you go into something that can be renegotiated but I don't think that is something that can be negotiated as far as player safety".
Paul also added his 2 cents to the question and gave his opinion on player safety.
Everyone is saying you're young, you're in shape but you never know because it can take one player who gets it and everything changes. We hope that everything will go well but we have protocols in place and things like that to give us a chance to be the safest as possible and there is still a lot of work to be done to get to that point and that every player will have a different opinion.

Now they are saying Montreal is a hot spot in Canada, so my opinion is different than someone who lives in the US. Maybe a state where everything is open and things feel like they are going back to normal, there are a lot of people in the union who takes decisions like that. I know with our association and the league that safety will be the number one priority for us and the most important thing for the players".
He also answered a question in regards to being away from his family for a long period of time when the time comes to go play in a hub city.
It's going to be difficult how long I'm away for. I mean no one knows for sure yet it could be two weeks, it could be a month and it could be two months and it is something that will have to be crossed when we get to that path. I mean my kids are accustomed to being around me 24/7 for the past 8 weeks and they have a certain level of attachment and it's going to be difficult.

You know at the same time we are hockey players and it's our job and there is points in the year where we have to leave on a two-week road trip and unfortunately, that's part of our job that we have learned to live with through facetime and technology and stuff like that you find a way to connect with your family even though your not there.
Another thing that came out were the objections to the format since the vote for the return to play wasn't unanimous. Byron had this to say about it,
In terms of the objections no matter what format, no matter what scenario you're going to propose to everybody, I don't think you would have a unanimous vote. I'm actually surprised by the result 29-2, to be honest with you I thought there would be more objection with that so I thought 29-2 was a shockingly high representation. Why it was not the answer right now we were 12 games short away from finishing the regular season and there is so much at stake, how would we have made a decision to cut it down to 16 teams.

I just don't see how we would have been able to do that and I know a lot of teams would have prefered that scenario, but (for) me I think the 24-team scenario works the best for all the teams on the bubble. The teams that were on the cusp of making it, so much can change.

A two-game hot streak momentum at the end of the year you know there's teams that were losing games at the end of the year, there were teams that were winning games that were hot, and that kinda all got neutralized right now so no format is perfect. There is no process that is going to make things perfect and a lot of (the) time and effort and thinking went into the decision and you know there were more then 7 or 8 players and most of them were playoff teams, a couple non playoff teams so I think even for the team that were given byes were represented, you're never going to have a unanimous vote pass through 750 players and thats just the way it is.
Brendan chimed in on the question as well.
They exhausted every single issue, every single scenario. They look at every possibility and I'm pretty sure everyone will tell you this was not their first option, but it's the best option and you don't want to take the opportunity from one team to have a chance to win the Stanley Cup who may have felt like they had the opportunity and they were rolling at the end of the year, so these are kinda the sacrifices you have to make and it's really going to be a grind.

I mean, for a team to go through five series (to) potentially win a Stanley Cup, I don't think anyone can say they didn't deserve it. Is it perfect? No, but is it the best option. I voted yes I think a lot of players around the league agreed.
Byron spoke about getting a 2nd life with this opportunity.
We don't know 100% yet if we're going back. You try your best to prepare in case you are, but you don't know yet if we do go back. Ya, we got a new life. I mean, it's no secret we had some injuries on our team, guys were banged up.

I was just coming back from injury. Jo was trying to come back from a wrist injury, and guys were playing big minutes for our team that would have normally not played big minutes because we had injuries, and we have an infusion of youth coming through the system right now and some of those guys were getting an opportunity and were really making strides in their game.

So if you look at our team in July or August it is certainly a lot different then it did in March and it's the same for every single team. I think every team is going to get an advantage with that being 100% healthy minus a couple of injuries long term but well see what happens when we have to cross that bridge but for our team, it's a big opportuntiy for us and for our young guys to gain experience and play in that competitive atmosphere and well see what happens.
Gallagher and Byron also spoke about Phase 2 and their plans since it is not mandatory for players to return. Brendan is currently in BC and will stay there because he mentioned he has everything necessary to train and get ready for the series vs Pittsburgh while Paul is still in Montreal and confirmed he will be there mentioning he is always there during the offseason and lives 10 minutes away from the practice facility in Brossard.
He also mentions it doesn't make sense for players to return at this point and time due to the fact there is a mandatory 14 day quarantine period in effect, meaning players would have to stay at home 14 days before they can resume training or skating.
A question was asked to both players in regards to bringing family to the hub city when it's ok to play, and both players said it was still under discussion.
The NHL and union know how important family is and they are still working at it.
Another hot topic brought up today was that NHL deputy commissioner Bill Daly said that if a player got the virus, it wouldn't affect the league, and both Byron and Gallager gave their thoughts on the challenge of that.
It's concerning for sure. When we talk to the doctors and when you do the research on COVID. it's very contagious. How bad are the symptoms? How bad will it be? No one really knows.

We're young, we're healthy. They say even if you get it, you'll be fine, but it takes one case to go south and to change life for anybody and these are things the league and the union are looking into to make sure that we are taken care of. This is the challenge and why we don' t have an agreement yet because we just don't know yet, (because) there are so many protocols in place to keep something like that from happening and if one guy test(s) positive, I see it unlikely that other guys won't test positive. But if they are testing everybody, I have to believe that they will probably find it.

What would happen if 4-5 guys on one team tested positive? I don't know I just hope that's not the case".
Gallagher spoke about the fact that the Penguins weren't happy to face Carey Price and the Montreal Canadiens.
I guess if they are unhappy it's good for us. We obviously know what type of challenge that would be. Arguably twp of the best players in the world and you go up against them in a series which is something I've never had to do so it would be a challenge.

But like any athlete, you look forward to testing yourselves and I look forward to seeing how you hold up in that type of situation and it will be a test for our group for sure. Especially for those guys who haven't been given that playoff experience and well see how we stack up but to say we go in there without confidence and without belief wouldn't be true, one thing I know about our group if we are given that opportunity it's something that we would welcome."
To finish off the conference call, Paul Byron spoke about the process of how the team voted.
Anytime we have a call, anytime information is given to me or Brendan we write it down. We put it into a format so everyone on the team can read it, we make sure everyone is on the page.

After that, I put forth the vote at hand and guys just write a simple yes or no answer, some guys who are uncomfortable text me privately and after that, I submit the ballots for everybody.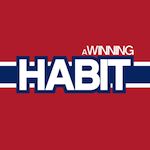 Want your voice heard? Join the A Winning Habit team!
Write for us!
So the next phase, as mentioned, is Phase 2, which is not mandatory for players will be June 6th, and there is still a lot of work to be done, but we all hope the earliest we can see hockey is in August.