Montreal Canadiens: What Does a Healthy Pittsburgh Penguins Lineup Look Like?
The Montreal Canadiens appear headed to a play-in series that would be a best of five against the Pittsburgh Penguins. What does their opponent look like?
The Montreal Canadiens are heading to a play-in best of 5 series with the Pittsburgh Penguins for a berth in the 2020 postseason. At least, it sounds like the NHL and NHLPA are set to agree to that format. They have agreed to the basic format of a 24 team return to play scenario, but nothing is guaranteed quite yet.
We still have to figure out where the games will be played and when they will play and how the league can confidently say everyone will be safe while they play. It sounds like the league is looking at two different hub cities that would host 12 teams each and run the eight play-in series and then a normal 16 team playoffs.
The Habs were far from securing a playoff berth in the usual manner. They sat ten points back of the Toronto Maple Leafs for the final playoff spot in the Atlantic Division with only 11 games left to play. However, everything is pointing towards 24 teams getting a chance at the Stanley Cup.
The Canadiens are the 24th ranked team in standings so they will sneak into this format and suddenly still have a chance at the postseason again. All they have to do is beat the Pittsburgh Penguins three times in five games to steal a playoff spot away from the Pens.
Right, that is "all they have to do" is beat the team that won two Stanley Cups in the past four years in a best-of-5 series to get in. Considering the Canadiens could have finished the regular season 11-0-0 and still missed if the league wasn't tossed into chaos over the past two months, that's actually a deal the Habs can't refuse.
But, what exactly are the Habs going up against? Yes, the Penguins won two Stanley Cups in the past four years, but they've only won one series in the past two years and were quickly swept in the first round last year. They made a few big trades since then, so what will they look like when we see them taking on the Canadiens?
Well, shortly after the season ended last year, the Penguins traded sniper Phil Kessel to the Arizona Coyotes for Alex Galchenyuk and a prospect. Galchenyuk did not fit with the Penguins at all, scoring five goals in 45 games before being sent to the Minnesota Wild. Galchenyuk, Calen Addison and a first round pick went to the Wild for Jason Zucker.
Zucker is a gritty winger who has the ability to put up points. He fit in with the Pens lineup quickly, scoring six goals and 12 points in 15 games after the deal. The Pens have also benefited from a breakout offensive season from Bryan Rust, a mostly healthy season from Kris Letang and great depth from Brandon Tanev, Dominik Simon, Connor Sheary and Teddy Blueger.
With Zucker in the lineup, Jake Guentzel likely to be returning from what was supposed to be a season ending injury and Sheary and Patrick Marleau adding depth from deadline pickups, the Penguins have a stacked roster. Their lineup would look something like this:
Sheary – Crosby – Zucker
Guentzel – Malkin – Rust
Simon – McCann – Hornqvist
Tanev – Blueger – Aston Reese
They would also have Marleau and Nick Bjugstad who could fit in pretty much anywhere in the lineup if they needed to fill in for an injured player or just to shake things up.
On defence:
Dumoulin – Letang
Pettersson – Schultz
Johnson – Marino
That lineup, whether at forward or on defence, is much deeper and has much more top-end talent than the Canadiens lineup. Matching up against Crosby's line would probably be left to the Tatar, Danault, Gallagher line and probably Chiarot and Weber on defence. But then who is left to go head-to-head with Malkin, Guentzel and Rust who all averaged over a point per game this season?
The one part of the Pens lineup that isn't deep and ironclad is in goal. Matt Murray has won two Stanley Cups and could very well be excellent in the postseason once again. But, he wasn't great in the Pens short postseason last year and has an .899 save percentage this season. The Penguins could turn to Tristan Jarry who has been great this season, but he doesn't have a lot of NHL experience and has zero playoff experience.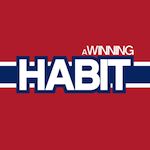 Want your voice heard? Join the A Winning Habit team!
Write for us!
It is hard to find a weakness on this Penguins roster. However, if there is one place the Habs can match them, it is definitely in goal. Carey Price gives the Canadiens an advantage in net in the series, but he is going to have to be excellent to beat this Penguins team three times in a five game series.