Legault thinks Habs should have traded Weber back in January
Quebec premier thought it would be good to trade Shea Weber.
At a daily press conference yesterday, Quebec Premier Francois Legault mentioned that Shea Weber had sent him a Montreal Canadiens mask after hearing that he thought it would be a good idea to trade him back in January.
Let's look at this idea just for a minute and realize how comical the whole idea sounds. Every year the argument comes up since the trade was made who won the trade between Montreal and Nashville.
If we look strictly at the numbers it seems Bergevin's bold move is paying off while P.K. Subban continues to go on a downward spiral. Weber has reached points totals of a regular 3rd line forward.
If the NHL had not been paused due to Covid-19 Weber was on pace for a milestone year in goals and points. Subban was having one of the worst seasons of his career. So again Legault's idea is laughable at best.
He doesn't seem to understand that Weber has a very expensive contract and that even if it was a good idea it would be very difficult to unload his contract to another team. He is also the captain and leader of the team.
Even if the team is in reset mode he is proven to be a great mentor to young players and that is always a great asset to have. He has embraced the Montreal community and I think Montreal fans finally realized how lucky they are to have an NHL superstar in Weber.
It's not the first time we have had the provincial government give their two cents on the Montreal Canadiens. Back when Saku Koivu was captain the Quebec premier at the time mentioned a fact that the captain of the team should learn french. Koivu gracefully responded by mentioning he was from Finland and that they should focus on the bigger issues than language.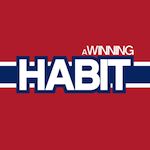 Want your voice heard? Join the A Winning Habit team!
Write for us!
The fact that we have reached this point again even during a pandemic is hysterical and I personally think the premier should focus on bringing Montreal back to normal. Let the hockey people manage players and let the government run the province. Thankfully, Weber obviously takes the criticism in stride and has a good sense of humour to bring some levity to the situation.