Montreal Canadiens Should Offer Young Defenceman For Henrik Borgstrom
The Montreal Canadiens have built up a great group of prospects but that shouldn't stop them from looking for more. They should be calling the Florida Panthers about Henrik Borgstrom.
The Montreal Canadiens have used the past two drafts to build up a tremendous pool of prospects. They made 21 selections over the past two drafts, and by all accounts, have a terrific group of young players ready to take the next step in the near future.
That doesn't mean they should stop building on that next wave and just wait for them to all turn into stars. It seems general manager Marc Bergevin is not resting on his laurels since he is anxiously waiting to find out when the 2020 NHL Draft will be held because he holds 14 selections in that event.
The Canadiens have done well at those last few drafts to address areas of need in the organization. For many, many years the team was lacking depth down the middle of the ice. They didn't really have a first line centre either, but not long ago they barely had enough NHL caliber centres at all.
They identified that need and starting drafting and trading for players that are capable of playing down the middle of the ice. They added Max Domi in a trade for Alex Galchenyuk. They made sure to acquire Nick Suzuki when they moved Max Pacioretty. They drafted Jesperi Kotkaniemi and Ryan Poehling with consecutive first round picks. It has resulted in them having depth down the middle and tons of potential for the future.
This is great news, as the most important position of a winning team could very well be centre. Most of the recent Stanley Cup winning teams have had great centres on their roster. The Washington Capitals were great down the middle with Nicklas Backstrom, Evgeni Kuznetsov and Lars Eller. The Pittsburgh Penguins of course were led by Sidney Crosby and Evgeni Malkin but also had Nick Bonino play an important role. The St. Louis Blues won last year after adding Ryan O'Reilly and Tyler Bozak to Brayden Schenn down the middle.
The Habs look to have a good future at centre ice with Suzuki, Kotkaniemi, Danault, Domi and Poehling as options. Of course, none of those players are guaranteed to be first line centres in the future. Domi looked the part last year but not this season. Danault has filled in admirably in the role but hasn't brought enough goal scoring to be compared favourably to other first line centres. Poehling likely won't have the offence either. Kotkaniemi looked great as a rookie but not so much this season. Suzuki looked great as a rookie but who knows what is coming next.
So, if a young, highly skilled centre with a lot of offensive potential were to come available, it would be foolish of the Habs to look the other way thinking they have the position filled.
That's why, when a player like Henrik Borgstrom is rumoured to be looking to leave his current team, the Canadiens should be making a few calls.
Borgstrom was a late first round pick of the Florida Panthers in 2016. The Finnish centre immediately left his home country and played for the University of Denver. He was excellent in NCAA action as a freshman, scoring 22 goals and 43 points in 37 games. He followed that up with an even better sophomore campaign, scoring 23 goals and 52 points in 40 games.
The 6'3″ and 200 pound left-shot then signed his entry-level contract with the Panthers and burned the first year by playing four games with the Cats to end the 2017-18 season. The next season, Borgstrom's first as a pro, he was very impressive in the American Hockey League. He put up 22 points in 24 games for the Springfield Thunderbirds and added 18 points in 50 games with the Panthers in his first real taste of NHL action.
At this point, the big, 21 year old centre looked like he had the potential to be a top six centre at the NHL centre without question. There were many around the Panthers organization that thought he would be the perfect player to slot in behind Alexander Barkov as their second line centre in the very near future.
Then came this season. Borgstrom only played four NHL games and was held scoreless. He also suited up for 49 AHL games but instead of being the point per game guy he was a year earlier, he had just 23 points.
Yesterday, there were rumours he was looking to sign with a Liiga team in Finland for next season. It seems he is not happy with his development and situation with the Panthers. Sure, he had a down year, but he has tremendous potential and looked like a budding star as recently as this time last year. He is still just 22 years old and could be a top six centre for an NHL team in the near future.
Why couldn't that team be the Habs? Yes, they have some good looking young centres already, but who is guaranteed to be a top six centre for the Habs in two years? Hope fully Suzuki but he could end up better suited on the wing. Hopefully Kotkaniemi but he had eight points in 36 games this season. Hopefully Danault and Poehling but maybe they are better suited to a third line role. Hopefully Domi but maybe he is a grinding winger and not a 72 point scoring centre like he was a year ago.
I am certainly not saying we should write off all of these players. I just don't know which one of them is guaranteed to be playing top six minutes in the NHL as a centre in two years. It is the most important position to have depth, so why not keep adding until you do have guarantees? I mean, the Penguins drafted Jordan Staal second overall AFTER seeing what they had in Malkin and Crosby.
So, I'm thinking the Habs should be calling up the Panthers to see if they are interested in moving Borgstrom. Florida is one of the highest scoring teams in the league but they have trouble stopping the other team from scoring. They could use some help on the blue line for sure.
Would they be interested in a young defenceman in exchange for Borgstrom? The Habs have a number of good looking defensive prospects in their system right now. They have one that looked like a budding star a year ago like Borgstrom and then had a down year. That would be Josh Brook. He was exceptional for the Moose Jaw Warriors when he played Junior and looked like he could become a two-way force at the NHL level.
However, his first taste of pro didn't go great this season. He improved as the year went on but he finished the year with 13 points in 60 games for the Laval Rocket. Is Brook going to be a top four two-way defender in the future? Is Borgstrom going to be a top six scoring centre in the future? Hard to say.
What is easy to say is the Habs need someone to step up and prove to be a scoring top six centre. The Panthers are even more desperate to find a reliable defensive defenceman that they can count on to play tough minutes and can also move the puck up ice.
Could Borgstrom be that top six scoring centre for the Habs? Maybe. Could Brook fill that role the Panthers need? Maybe. That's why the two make interesting trade partners. The Habs also have Noah Juulsen and Cale Fleury as right shot defencemen in the system, not to mention Shea Weber and Jeff Petry on the NHL roster, so they would be dealing from a position of strength.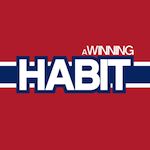 Want your voice heard? Join the A Winning Habit team!
Write for us!
You don't often see top prospects moving in trades among teams in the same division. However, trading Brook after a down season for Borgstrom after his down season could be a perfect deal for the Panthers and Canadiens. With Borgstrom looking to head back to Finland, the Panthers obviously have reason to make a deal. The Canadiens should step up and offer Brook in a deal that could land them a future big, top six centre who can score.