Montreal Canadiens: With Uncertain Schedule For 2020-21, Getting Experienced Backup Goaltender Imperative
The Montreal Canadiens have not had a reliable backup goaltender for Carey Price in years. The Habs goalie has been forced to take on a heavier workload and needs a reliable backup.
The Montreal Canadiens have the highest paid goaltender in the National Hockey League. Carey Price's $10.5 million salary is among the highest in the league regardless of position, but makes him the highest paid shot stopper in the world.
It appears their strategy for the past few years has been to rely heavily on Price since he is making so much money, and try to find a halfway decent backup goaltender on the cheap. This season, the answer was Keith Kinkaid, on a one-year contract that paid him $1.5 million. As it turns out, even that was an overpayment for the Habs who had plenty of cap space.
Last year, the Canadiens tried to use Antti Niemi because the 35 year old had a solid stretch to tend the 2017-18 season in Montreal after being cast aside by the Dallas Stars, Pittsburgh Penguins, and Florida Panthers in short order. The Habs offered him less than a million dollars to stick around for another season, but they couldn't count on him down the stretch in a playoff race and Price ended up playing pretty much every game in the last three months of the season.
In 2017-18, the backup was supposed to be Al Montoya. After four appearances, it became clear his bargain contract wasn't enough reason to keep him on the roster and Niemi was claimed on waivers. In the past three seasons, the Habs have committed just over a million dollars per year to their backup goaltender plan and it hasn't worked in any of those seasons.
With the current season on pause, and no date set for when it will return, there is going to be a tight window to fit the 2020-21 season into. If this year comes back to life in June and the league runs a full playoff, which appears to be their plan, the Stanley Cup will not be handed out until August, at the earliest. It's possible we could see things pushed back even further and the 2020 Cup is handed out in the fall.
Financially, this makes sense for the league. The longer they wait to hand out this year's Cup, the greater chance they have of actually running a 2020 postseason and making advertising revenue and tv revenue. Also, the further the start of next season gets moved, the greater the chance they can actually sell tickets to fans to enter the arena and watch games live.
If the league were to cancel the remainder of this season and start next year on time in October, they would lose out on any chance of playoff money in the near future and would also ensure they would be starting next season without fans in the stands. The longer they wait, the more money they make.
Money talks, so the league is going to wait as long as is necessary to fit everything in. That means we will be seeing a Stanley Cup parade much later than we are accustomed. It also means the start of next season will not be on time.
What this is going to lead to, is a tighter schedule next season. The season is likely to start two months late, but there is no way the league wants it to finish two months later than usual as well. They are going to have to cut some corners to speed up the season. Remember that week off every team got? Consider it gone. The All-Star break that no one watches? No one will have the option to not watch it next year.
Basically, we are going to see teams play 82 games in as few days as possible. This way, the league can get a full 2020-21 season in and try to start the 2021-22 season as close to on time as possible.
What that means for teams, especially the Montreal Canadiens, is depth will be key to winning next season more than ever. Especially in goal. Al Montoya, Antti Niemi and Keith Kinkaid type backups are not going to cut it.
Price is 32 years old, and is still being asked to play the bulk of games like he did when he was 23. The Habs high priced netminder led the league in games started, minutes played and was second in shots faced last season. As a result, he had a solid run in the middle of the season, but was not at his best in the last month or so of the season before the league went on hiatus.
His workload is simply too high. In normal circumstances, the Habs needed an upgrade in goal. Under these uncertain circumstances that are very likely to lead to a busier schedule than usual next season, the Habs desperately need a trusted number two in goal.
They already have a crowded crease at the AHL level, but none of those options seem ready, or capable, of handling 30 NHL games next season. At some point in the future, Cayden Primeau will be able to handle that load. However, he is just 20 years old and played 33 AHL games in his career so far. Allowing him to shoulder a heavy workload in the AHL next season is best for his development.
Charlie Lindgren has been given several opportunities at the AHL and NHL level over the years, but can't seem to get his save percentage above .900 anywhere he plays. Michael McNiven has played well when he found a place to play this season, but he was loaned out to three different ECHL teams just to find a place to play. There is no way he is ready to be an NHL backup.
The Canadiens did sign Vasili Demchenko out of the KHL for next season. He has had several great years in the Russian league, but his 2.75 GAA and .907 SV% this season, doesn't give me the impression he is ready to step into an NHL crease and play regularly.
It is possible one of Demchenko, Primeau, McNiven or Lindgren impress in training camp and prove to be ready to be an NHL backup next season. However, if this is the Canadiens plan heading into a packed schedule next season, they are setting themselves up for the same disappointing non-playoff finish we are becoming accustomed to as Habs fans lately.
It may not seem like the best place to spend more money when Price is already making so much. However, Price's contract isn't about to change any time soon. He shouldn't be asked to lead the league in games started and minutes played just because he makes the most money. He should be catered to so that he can be at his best when the games mean the most – in the playoffs.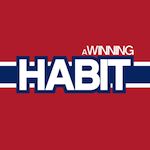 Want your voice heard? Join the A Winning Habit team!
Write for us!
The only way the Habs are going to get back to the playoffs, and really give Price a chance to live up to his contract, is by signing a better backup than we have seen in Montreal in years. If we don't see Anton Khudobin, Robin Lehner or even Corey Crawford or Cam Talbot, signing with the Habs this summer, we can be assured Price will be hung out to dry more than ever.