Montreal Canadiens: The Maple Leafs may effect what Victor Mete makes
Contract comparables are everything, and the Montreal Canadiens may use Travis Dermott's next deal with the Toronto Maple Leafs as a reference for Victor Mete
No NHL contract exists in a vacuum. Every time one is signed, it exists in a memory bank to be used for case later on in the future, I call it the 'finger point' complex. Last summer, with all the restricted free agents waiting to get a deal, was a prime example. The majority of RFAs were initially waiting for Mitch Marner to sign so they could set a limit or range for what they should get. No one can escape this, not even the Montreal Canadiens, and with Max Domi and Victor Mete up this offseason, they will be on the hunt for them.
We've already taken a possible look at contracts for both Domi and Mete.
Marc Bergevin rarely commits to a player long-term with the recent deals that have gone longer than three years include only Jonathan Drouin, Carey Price and Paul Byron. Karl Alzner was another one signed not too long ago, but the perception of that contract has gone south fairly quickly.
Fortunately, the Montreal Canadiens aren't the only team with restricted free agents to sign. Take the Toronto Maple Leafs, for example. The Leafs have their fair share of restricted free agents as well with Frederik Gauthier, Denis Malgin and Ilya Mikheyev needing new deals.
There isn't a situation on the Leafs' books that match Domi though. No one has gone from a career year to a 17-goal 44-point season moving back and forth between centre and the wing. I still believe Andre Burakovsky's contract or something similar to it on another bridge deal would be the most ideal.
Mete is a different story. Travis Dermott was on the same boat as other pending free agents burning money in a contract year. Dermott had ample opportunity to step his game up this season with injuries coming to Morgan Rielly, Jake Muzzin and Cody Ceci, the Leafs tried to rely on him to carry the load.
It worked in certain stretches, while others saw Dermott's game fall to subpar levels. Perhaps starting the season late had more of an effect than the Leafs thought it would. Either way, he left the team wanting more.
The 23-year-old put up 4 goals and 7 assists for 11 games in 56 games averaging 17:19 a night. Victor Mete had the exact same stat line but in 51 games while averaging 16:00 a night. Fairly similar here.
Another plot point is the internal contract comparable on the Leafs. Justin Holl is one of their better success stories, and this season finally took that next step spending a majority of the year in the team's top four. He was also up at the end of the year, and the 28-year-old wound up signing a three-year extension worth $2 million per.
There is not much ground to justify Dermott making more than that. Holl played tougher minutes (averaging 18:31), suiting up with Muzzin when he was healthy as the team's shutdown pair and finish with 7 more points.
Perhaps Dermott takes a one-year contract to bet on himself, similar to what Andreas Johnsson did scoring 20 goals on a $787,600 cap hit. Either way, it's going to be an interesting negotiation, one the Montreal Canadiens should absolutely wait for.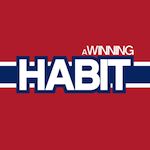 Want your voice heard? Join the A Winning Habit team!
Write for us!
Luckily they have the king of contract patience in their midst with Darren Ferris representing Mete. If Dermott winds up making say $1.85 million two or three years, the Brett Kulak deal, it would be very tough for the 21-year-old to try to argue for more.