Montreal Canadiens: Joel Armia is entering the prime of his career
Joel Armia had the best season of his NHL career with the Montreal Canadiens, and it's safe to say the 26-year-old is entering his prime years of production.
There was a point in the season where Joel Armia was the leading scorer on the Montreal Canadiens. He couldn't be stopped from the start of the year as he was making use of both his skating and size to put himself in positions to score. Additionally, more of Armia's skill was coming out on the ice, and it all led to him being more of an impact than he's ever been in his NHL career.
Injuries, unfortunately, kept him out of 13 Habs games, which is a shame given the pace he was scoring at. Armia walked into the NHL pause with 16 goals and 14 assists for 30 points. Whether the regular season resumes or not, that's a career-high in goals and overall points for the 26-year-old winger. And if he continued to score at the same pace, Armia would've finished the year with about 22 goals, another first in his career.
Coaches and general managers will throw the cliche of, "We want our players to get better every year," when asked to evaluate the progress of someone. In Armia's case, he literally has been improving every year and in appropriate increments.
He made his NHL debut with the Buffalo Sabres playing a single game in the 2014-15 season though didn't get a significant run until his trade to Winnipeg. Even though his goal totals weren't jaw-dropping, Armia did ways to score more each year and at higher rates (for the most part).
2015-16: 4 goals in 43 games – 0.09 goals/game – 7.7 S%
2016-17: 10 goals in 57 games – 0.18 goals/game – 9.0 S%
2017-18: 12 goals in 79 games – 0.15 goals/game – 9.4 S%
2018-19: 13 goals in 57 games – 0.22 goals/game – 9.7 S%
2019-20: 16 goals in 58 games – 0.28 goals/game – 10.3 S%
Jumps in shooting percentage (S%) are warning signs in some cases. But Armia has been increasing his shot generation each year, which has led to more scoring chances and more goals. At the same time, it also helps that he's getting more ice-time from his coaching staff.
If there is another indicator that the progression of Armia is legitimate, his on-ice 5v5 shooting and save percentage (PDO) of 1.002 suggests that he's right where he's meant to be. Ironically, his PDO last season was 0.984, which hints at some bad luck that came his way goal-wise.
This shouldn't be too much of a surprise. Armia was a first-round pick, after all, going 16th back in 2011. The NHL is seeing players hitting their prime earlier than ever, but that's not the case for everyone.
Armia is on the brink of a breakout, and if we follow the patterning of his production throughout his career, it's going to come soon. His two-way game is rounding out very nicely such that he has become a threat at either end of the ice and in various situations. Of those 16 goals, ten were at even strength, three on the power play, while the remaining 3 were shorthanded.
There were only 14 players to score at least three this season, including the likes of Mika Zibanejad, Jean-Gabriel Pageau and Blake Coleman, to name a few. Armia being part of this group is a testament to what he was for the Montreal Canadiens this year and what he can become if he stays on the path he's projected for himself.
Next season will be a big one for Armia as it's a contract year. But not just any contract year, a UFA contract year. Armia can earn himself a decent payday if he pushes his boundaries and hits some serious milestones.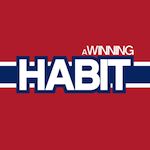 Want your voice heard? Join the A Winning Habit team!
Write for us!
There's no doubt Joel Armia has entered his prime and hopefully, he chooses to live out those best years as a member of the Montreal Canadiens.
Acknowledgements: Advanced Stats from Natural Stat Trick