Will it be the Montreal Canadiens or the KHL for Alexander Romanov?
With the KHL cancelling the remainder of its season, Alexander Romanov has a decision to make: stay with CSKA Moscow or play for the Montreal Canadiens.
Alexander Romanov has reached a crossroads in his career for far. He's been coveted since the Montreal Canadiens called his name at the 2018 NHL Draft and delivered on the hype by making it to the KHL as an 18-year-old and dominating the blueline for Team Russia at the last two World Junior tournaments. Now with the KHL cancelling the rest of the season, Romanov will need to decide which team to sign with.
This has been an ongoing narrative since the beginning of the year. Romanov was entering the final year of his deal in the KHL. CSKA Moscow owner Igor Esmantovich said in a statement back in December that they've been in contact with Romanov's agent Dan Milstein, but his future is still in the air.
Marc Bergevin spiced things up a bit after telling Montreal Canadiens media that Alexander Romanov made it clear that he wants to play in Montreal next season.
However, that was three months ago. Some things haven't changed as far as what either organization can offer Romanov. Money-wise, CSKA Moscow wins.
Andrew Zadarnowski looked at this back at the beginning of the 2019-20 season. If the Montreal Canadiens were to give Romanov a max entry-level deal, his total salary would be $925,000 (base of $832,500 and a $92,500 signing bonus). He could make as much as $3,775,000 if he manages to hit a number of performance bonuses, such as scoring 10 goals, 25 assists, and/or 40 points. As Zadarnowski mentions in his tweet, CSKA Moscow could offer Romanov more money than the guaranteed amount.
What the Montreal Canadiens have is the possibility of selling Romanov on is opportunity. Romanov has been a six or seventh defenceman on CSKA Moscow for the last two seasons. His average ice time has improved from 11:23 to 12:53 despite powering through injuries this past year.
Claude Julien controls who plays on the Habs, but it could be possible they can offer him better minutes. On the other hand, Montreal still has Ben Chiarot and Victor Mete in the ranks. Romanov would be looking at a third-pairing debut to start with with a chance to move up.
Julien hasn't shied away from giving young defenceman an opportunity to play high in the lineup. Regardless of how things are now, Mete did debut as Shea Weber's defence partner. Perhaps that can happen for Romanov, given his ability on the blueline.
Of course, there are risks with that. Romanov has experience playing in a North American-sized rink, but there would be an adjustment period. Throwing him against the league's best right off the bat would be irresponsible and dangerous to a developing player.
Now even though there are two roads, Romanov seems to be leaning towards Montreal's path. The comment from Bergevin is the biggest clue here as the Montreal Canadiens rarely say things just to say them anymore. There also comes information from Pierre Lebrun.
The hockey insider relayed words from Romanov's agent that the Habs could sign the 20-year-old now for the remainder of the season instead of wait until next year. However, remaining with CSKA Moscow is still an option.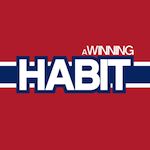 Want your voice heard? Join the A Winning Habit team!
Write for us!
It'll be interesting to see how the rest of this plays out. The Montreal Canadiens could use a player like Romanov to shore up their left side on defence, and if his story with the Habs starts now, watching his play develop will make the next upcoming seasons more exciting.