Montreal Canadiens: Laval Rocket Could Get Major Reinforcements if AHL Returns
The Montreal Canadiens and Laval Rocket have seen their seasons put on pause. If the AHL season returns, the Laval Rocket roster could look much different than it did when we last saw the team.
The Montreal Canadiens and Laval Rocket, along with the rest of the hockey world, are currently on pause. The hockey world, is on hold as the world deals with a global pandemic that leaves everyone wondering what is going to happen next. As far as the hockey world goes, we have no idea when we will see another hockey game.
There are lots of different unique possibilities being thrown around. We could see the NHL return and go immediately to the playoffs. We could see them expand the postseason to include 24 teams instead of 16. We could see shorter "play-in" series or games. It all depends when they can get back on the ice.
This could be great news for the Montreal Canadiens who are 24th in the NHL standings right now. They were not going to make the traditional postseason, but if things get expanded due to this unforeseen circumstance, we could see the Habs in the playoffs.
The same could be said for the Laval Rocket. They are not in a playoff spot at the moment. They were playing well lately, but are still sixth in their division, when only four teams per division qualify for the AHL postseason. If the AHL follows the NHL's rumoured lead and expands their playoff format, we could see the Rocket included as well.
If they are included, we would be witnessing a vastly different looking Rocket roster than we saw last time they were on the ice. First of all, the Rocket were dealing with a plethora of injuries when they were last on the ice. Their most recent game was a 3-0 shutout victory over the division leading Belleville Senators.
There was a picture floating around of the Rocket's press box that night, and it included a number of the team's best players.
Teasdale, Ylonen, SUZUKI, Belzile, Fleury. #GoRocket pic.twitter.com/ffsKP8n2sZ

— Etienne Ferland (@EtienneFerland) March 12, 2020
Now, Nick Suzuki was not going to be sent to the Laval Rocket. He was just hanging out with some of the other younger players in the Habs organization. However, Jesse Ylonen had just signed with the Rocket after finishing a solid season in Finland. Joel Teasdale had a great final Junior season last year but was on the sidelines all season with a knee injury, though he was inching closer to a return. Belzile had 14 points in 20 games before his injuries hit and Fleury played solid defensive minutes for the Canadiens for 41 games before being sent down for more seasoning.
If the Rocket return to the ice in the next month or so, they could have all of those players back in the lineup. Ryan Poehling was also injured when we last saw Laval play and he could be back as well. With NHL players like Victor Mete, Tomas Tatar and Jonathan Drouin getting healthy, we could also see Charles Hudon and Karl Alzner sent back down to the AHL.
Adding Ylonen, Teasdale, Belzile, Fleury, Hudon and Alzner to a roster that was playing well already would give the team quite the shot in the arm.
Also, some reinforcements from the Junior leagues could be on the Rocket roster if they get back on the ice this season. The Canadian Hockey League announced that it has cancelled the rest of its season, playoffs and Memorial Cup.
This means Rafael Harvey-Pinard, who had 78 points in 62 QMJHL games, Cam Hillis who had 83 points in 62 OHL games and Cole Fonstad who scored 74 points in 60 WHL games would be free to join the Laval Rocket. Samuel Houde, Allan McShane and Jacob LeGuerrier would also be available to the Rocket, but they wouldn't have the same impact as Harvey-Pinard, Hillis and Fonstad.
It would give a team that was struggling just to find enough bodies to put a roster together before the break incredible depth coming out of the break. Imagine having to decide who, out of Gustav Olofsson, Otto Leskinen, Josh Brook or Christian Folin would need to be a healthy scratch. Two of them would need to be as the top four would be Noah Juulsen with Xavier Ouellet and Karl Alzner with Cale Fleury.
With Cayden Primeau the unquestioned number one in goal at this point and him being extremely hot when finally given the starter's job, the Rocket could make some noise in the playoffs. They were already heating up, going 7-2-1 in their last ten.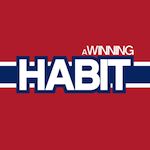 Want your voice heard? Join the A Winning Habit team!
Write for us!
Joel Bouchard was finally showing he could take an injury riddled underdog team and keep them afloat in a playoff race. It would be interesting to see what he could do with a deep and talented roster. With the CHL shutdown and players having enough time off to heal their wounds, we may find out as soon as the AHL gets back on the ice.