Montreal Canadiens: Marc Bergevin, Claude Julien Take Pay Cut
The Montreal Canadiens, like all businesses, are going through tough times right now. They had to lay off many workers, and Claude Julien and Marc Bergevin have taken pay cuts in solidarity with those employees.
The Montreal Canadiens, like all businesses in the world right now, are being affected by the global pandemic. They are not immune to the realities of social distancing that are causing NHL games to be postponed, if not cancelled.
Due to this, they announced the majority of their employees will be laid off. Well, they actually announced they "decided to proceed with a temporary reduction of personnel" which is about the nicest way to say they have gotten rid of 60% of their employees.
These are the people who work to make sure when we attend Montreal Canadiens games, as well as other functions at the Bell Centre, that everything runs smoothly. From ticket sellers, to concession stand workers to parking lot attendants to anyone who is inside the Bell Centre helping out in any capacity.
This doesn't mean all of these employees are being hung out to dry. Groupe CH, which is the company run by Geoff Molson that owns and operates the Bell Centre, among many other facilities around the Montreal area including the Place Bell which is where the Laval Rocket play, announced a plan to pay these employees 80% of their base salary for the next eight weeks.
They also said they are committed to bringing these employees back on when the sporting world is up and running once again.
No one was immune to this reduction in pay, as both the Canadiens head coach Claude Julien and general manager Marc Bergevin have cut their salaries by 20% as well. It is a nice gesture of solidarity by the team's top management figures. Of course, their salaries are far greater than anyone else employed by Molson's group, so cashing the cheques of a $4 million salary instead of a $5 million salary isn't going to force Julien to put his house up for sale.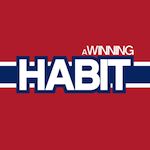 Want your voice heard? Join the A Winning Habit team!
Write for us!
It is encouraging to see that Molson is not just firing his other employees and leaving them to sort everything out for themselves. These people do a tremendous job making sure fans have a great experience at Canadiens and Rocket games and deserve to be treated well by an employer who has the cash to make it happen.