Alex Belzile earns a one-year extension with the Montreal Canadiens
Alex Belzile didn't get a chance to play with the Montreal Canadiens this season, but he may get an opportunity to do it next year after signing a new deal.
The Montreal Canadiens had a busy offseason ahead of them with the number of pending free agents they had in their farming system. Even though the NHL is currently on pause, Marc Bergevin took the opportunity to begin to check some names off that list, starting with Laval Rocket forward Alex Belzile.
Belzile was in his second season in the organization after leading the Rocket in scoring last year with 19 goals and 35 assists for 54 points in 74 games. Injuries held the 28-year-old to 20 games (missing 42 games in total), but he managed to put up 7 goals and 7 assists in that period hovering around a similar scoring rate as the year before (0.7 vs. 0.73).
The injuries were unfortunate as Belzile would've been a call-up option for the Montreal Canadiens as they dealt with their various injuries. However, with the new contract, Belzile should get an opportunity to make that long-awaited NHL debut.
As for the contract, the cap hit hasn't changed. It's still a $700,000 hit that will see him make that salary in the event of an NHL call-up. Additionally, it's still a two-way deal, but his minor league salary got a boost from $175,000 to $225,000.
With the Montreal Canadiens getting to a point where their players will need to be paid, having players such as Belzile in the system is beneficial. He could easily jump into a spot on the roster if a hole needs to be filled, but is also a locker room and scoring leader down in the AHL with the Laval Rocket.
Belzile is a type of player you easily route for. He's been playing professional hockey since 2012 after making his ECHL debut with the Gwinnett Gladiators coming off a dominant scoring year in the QMJHL. Since then, it's been a rollercoaster between the E and the A – including a brief stint with the Hamilton Bulldogs – before finding a, what seems to be, a stable spot within the Montreal Canadiens organization.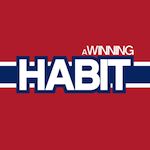 Want your voice heard? Join the A Winning Habit team!
Write for us!
Who knows what the future holds for Belzile. Some players take longer to make their way to the show than others, and perhaps there comes a time when the Quebec native is up with the Habs full time.