Montreal Canadiens: A week of silence and now a plan for the future
It's been a week since the NHL went on pauses ending the Montreal Canadiens season early, but there seems to be a plan in place to start things up.
The Barenaked Ladies' classic from 1998 may be in the minds of NHL fans everywhere this morning. It's been one week since the NHL made the decision to pause its regular season in the wake of the COVID-19 outbreak ending the play of the Montreal Canadiens and the rest of the league.
In those seven days, players have been allowed to return to their homes and self-quarantine before the season began. At the same time, both the ECHL and AHL have cancelled their seasons while the latter has shut down permanently for the year.
The NHL was hoping they could lift the pause by the end of the month, but it's going to be a lot longer than that. It was announced Tuesday night that a player on the Ottawa Senators tested positive for COVID-19. There seems to have been some crosstalk with the NBA who had four Brooklyn Nets, including Kevin Durant test positive. The Nets and the Sens were in Los Angeles playing their respective games against the Lakers and Kings, and here we are.
Now it looks like the NHL won't be back for another 60 days per it's latest release.
Regardless, the players and the league have engaged in discussions on how to proceed. An idea that's been floated around is the idea of having the playoffs take place from August and September.
That would have a short training camp for players to get back in the groove of things in early July while the rest of the month will be dedicated to finishing the regular season. The playoffs take place, and the Stanley Cup is rewarded – likely via the 24-seeded format – while October will be dedicated to the draft and free agency. This would all lead up to an incredibly short offseason with the 2020-21 season beginning in November.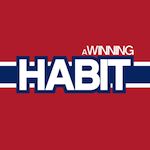 Want your voice heard? Join the A Winning Habit team!
Write for us!
There's going to be some time before we see hockey again. But thinking of how crazy those summer months will be with healthy rosters is going to be interesting, to say the least.