The Montreal Canadiens Limit Themselves Due to the Politics of Language
The Montreal Canadiens insist on hiring general managers and head coaches that have French as their first language. It is putting them at a competitive disadvantage in the NHL as no other team in sports limits their hiring pool.
I debated whether or not it was worth publishing this piece. I would like to preface this by saying that I am in no way criticizing the Quebecois culture or the people of Quebec by any means. I value multiculturalism and understand the importance of bilingualism to Canada. I myself speak French and have ancestors from Quebec as well as family residing there. Moreover, I recognize the value Quebecois culture has to the rest of Canada.
I have never, and did not think I would have to put a "trigger warning" in any column about a hockey team. However, understanding how contentious and controversial this specific topic is, I feel that it necessary to do so.
As the reality sets in for the 2019-2020 rendition of Les Canadiens, fans must once again face the fact that this team didn't have 'it' this year. Despite general manager Marc Bergevin insisting he thinks this team can compete for a playoff spot, they are set to fall short once again.
Through the ups and downs (mostly downs) this season, media outlets and fans are always going to look for someone to blame. Whether the finger should be pointed at bench boss Claude Julien or Marc Bergevin is a moot point for this specific piece. The issue at hand is the shocking number of fans and media members who believe it is only suitable to hire someone if the candidate speaks French.
It is 2020, and the most storied franchise in the entire NHL has settled for a quota that favours mother tongue over experience, intelligence, and skill. Pundits might claim otherwise, suggesting that the hiring of Claude Julien was getting the 'best candidate available' who 'also happens to speak French.'
Fair enough, but if the Canadiens somehow continue their play this year going into next, and Julien ends up on the hot seat, who is more likely to be hired? Joel Bouchard or Dominique Ducharme? Or the more experienced coaches who are still on the market but don't speak French such as Gerard Gallant or Peter Laviolette? History has shown that the Canadiens are more inclined to hire the former.
Flashback to the firing of Jacques Martin in 2011, an English-only speaking Randy Cunneyworth takes over as interim head coach. It did not take long for backlash to begin. On the online journal Impéritf Francais, separatists columnists voiced frustration saying that this move was a "bodycheck to Quebec" and a "gross misconduct." Even the president of Impératif Quebec, Jean-Paul Perreault, went as far as to say that everyone should be boycotting Molson products.
The online newspaper released a statement that said:
"Being unable to speak French is a severe handicap for someone in that position. Knowing the French language is a pre-requisite for leading the Montreal Canadiens hockey team,"
Socio-political issues aside, there are always going to be opinions voiced online. In a digital age, it is something we have learned to deal with. However, what really sent a message was when Quebec militants Mario Beaulieu and Denis Trudel held a rally January 7th, 2011 to protest the "Anglicization of the Montreal hockey club." At this scene, Quebec flags were handed out to fellow protesters to demonstrate frustration with an Anglophone coach. Trudel has been vocal about his fondness for Quebec, stating in his political bio that he is a "défenseur du français" meaning (defender of the French). Denis, Trudel, and the large gathering of fans who accompanied them really believed the sovereignty of Quebec was in jeopardy because of what language the coach spoke.
Philip Cantin of LaPresse expressed the importance of the Montreal Canadiens being a sacred institution that has a responsibility for the community. Obviously, hiring a unilingual coach for the first time in almost three whole decades did not comply with those values.
Pauline Marois – Bloc Québecois – thinks that the Canadiens should insist that all players learn French.
Following the vitriol, the awful rhetoric, as well as the protests riddled with numerous anti-anglo remarks, instead of denouncing these vile, separatist acts, Geoff Molson released the following statement:
"Although our main priority remains to win hockey games and to keep improving as a team. It is obvious that the ability for the head coach to express himself in both French and English will be a very important factor in the selection of the permanent head coach."
Starting a statement with "although our main priority is to win games" only to follow up by selling the importance of bilingualism above merit, only reveals that winning and long term success isn't the main priority and further acknowledges that Molson is limiting who is available for that position.
The Montreal Alouettes and the Montreal Impact do not have this issue. The Expos didn't either.
No other organization does this.
The world's sport of Soccer, is much bigger on a global scale and there are a multitude of geopolitical conflicts existing between countries. Honduras vs El Salvador in 1969, Iran's football revolution also in 1969, East Germany vs West Germany in 1974 or something more recent such as the violent game between North and South Korea in 2008. These conflicts have been prevalent since the early 1900's and exist to this day. Despite the non stop global dissension, the majority of soccer clubs don't prioritize mother tongue over merit.
Maybe there is some truth to the fact that maybe the Trudel's of the world would rather lose with one of their own than win with a "perceived" outsider so long as it doesn't threaten their identity? Or perhaps they are ignoring the fact that the majority of the Canadiens' 24 cups came from English speaking coaches.
Or maybe, just maybe, this is not about hockey but about pushing a radical agenda fuelled by their own insecurities.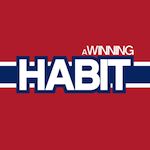 Want your voice heard? Join the A Winning Habit team!
Write for us!
I'm curious to hear your thoughts. Should the unwritten rule of having a French speaking coach be mandatory? Let me know in the comment section below.