Montreal Canadiens among teams to cancel morning skate ahead of Corvid-19 announcement
The NHL may take a similar approach to the NBA with the state of Covid-19, and the Montreal Canadiens have cancelled morning skate ahead of an announcement.
Things in the professional sports word started to intensify Tuesday night in the wake of Covid-19 (Coronavirus). Several European hockey leagues have either cancelled or postponed their regular seasons, including the German, Swiss, and Swedish Hockey League. However, with the decision the NBA made to put their league on hiatus, it seems as if a similar fate is coming for the Montreal Canadiens and the rest of the NHL.
It started with Rudy Gobert of the Utah Jazz being tested positive for Covid-19. Gobert, as well as other Jazz players being ill, forced the league to postpone their game, but it transitioned to the entire league.
The concerning thing is the potential spread between the NBA and the NHL. The Jazz travelled to arenas as the away team in the last week including stops in arenas also used by the Boston Bruins, Tampa Bay Lightning, Detroit Red Wings, Philadelphia Flyers and Carolina Hurricanes.
The NHL didn't decide to follow suit with the NBA; however, it looks as if that might change as discussions between the league and the player association take part. Teams were advised not to take part in their morning skates, including the Montreal Canadiens, who were preparing to take on the Buffalo Sabres. And just recently, this has extended to media availability and player meetings.
There won't be an official statement until later this afternoon when both sides of representation take to the podium. That said, it looks as if the NHL is going to take the route of the hiatus for the time being. There is also the possibility of limiting the number of people who are allowed in arenas during the game, but leaning on the side of caution seems to be the better and safer of the two options.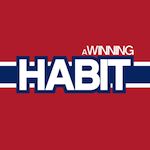 Want your voice heard? Join the A Winning Habit team!
Write for us!
Who knows whether the entire regular season will be cancelled or not as it'll depend on how things progress worldwide. But for now, the NHL looks to be next.