Montreal Canadiens: Who is fresh acquisition Aaron Luchuk?
With another trade deadline come and gone for the Montreal Canadiens, a potentially useful addition comes in for the Laval Rocket.
It was a busy, if unremarkable trade deadline for the Montreal Canadiens.
While the team did make 4 separate trades, getting rid of fan favorites Nate Thompson and Ilya Kovalchuk, along with depth forwards Matthew Peca and Nick Cousins, most were simply made with the goal of stockpiling picks for this year's draft in Montreal.
In return for these 4 players, the Canadiens acquired a 3rd and 7th round pick in 2020, and a 5th and 4th round pick in 2021. With the trades that were they made, its safe to say that the Canadiens are shifting focus in terms of their playoff hopes this year, putting it on the future, as they should. However, they did acquire at least one player, even if it is a pretty minor one.
In many ways, Aaron Luchuk is cut from the same cloth as a lot of undrafted junior players nowadays. Solid producers who either didn't have the size or ability to convince NHL scouts, or simply came into their own as an over ager, which can make scouts skeptical about a players NHL ability. Over agers are players who are 20 years or older, and each CHL team is allowed 3.
In essence being a man amongst boys, it doesn't give an outlook into their talent in the same way that a 16 or 17-year-old leading their CHL team in scoring does. Former Canadiens draft bust Louis Leblanc was displaying okay at best numbers as an over ager after the Habs drafted him 18th overall in 2009, and many people point to this when discussing why things didn't work out.
A 4th round selection of the Windsor Spitfires in 2013, Luchuk only began to display impressive numbers in his over ager season, recording 51 points in 30 games with Windsor before being dealt to the Barrie Colts to aid in their playoff run, playing alongside former 2nd overall pick Andrei Svechnikov. All in all, he recorded 50 goals and 65 assists in 68 games, along with 17 points in 12 playoff games. Signed by the Ottawa Senators as a free agent, Luchuk was dealt to Toronto as a throw in to the trade the brought Nikita Zaitsev to Ottawa, before being dealt back to Ottawa before this year's trade deadline, and then Montreal.
Over ager prospects are usually used to sweeten trades a little bit, as with enough development they can turn into solid players. Alex Barre Boulet tore up the QMJHL with a 53 goal, 63 assist season as a 20 year old, signed with the Tampa Bay Lightning after going undrafted, and has since become the offensive leader for AHL Syracuse, finishing tied for the AHL lead in goals last year with 34.
While Luchuk hasn't quite demonstrated the potential of Barre Boulet, he's also yet to been given a solid shot in the AHL, having played just 30 games with 9 points. He's been better (as expected) at the ECHL level, producing 50 points in 45 games with the Newfoundland Growlers, but that's typical for players like him. With the Laval Rocket still in contention for the final playoff spot in the AHL's eastern conference, theirs a chance Luchuk can be a pleasant surprise and maybe even an upgrade in the future over the player traded for him, Matthew Peca.
Yes, while Peca has proven himself to be an NHL calibre player, even if only as an injury fill in thus far, he hasn't put together any amazing seasons in the AHL either, having just 13 points in 34 games with the Laval Rocket this year. With former offensive leaders Phil Varone and Riley Barber also gone, head coach Joel Bouchard is left with a similar team to last years, one who's defense will be the key to their success. I think its in the Rocket's best interest to give Luchuk a chance to prove himself, as he could be a nice compliment to more power forward esque players like Yannick Veilleux.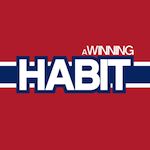 Want your voice heard? Join the A Winning Habit team!
Write for us!
Of course this all remains to be seen, but considering how little the Canadiens did during the trade deadline, you have to take what you can get, and at least Luchuk is an interesting discussion piece, and possible sparkplug for a Laval Rocket team that's in need of one that isn't Cayden Primeau. The Canadiens didn't have a great trade deadline, but at least they continue to stockpile picks, which could work out with the right development and scouting.
Same can be said, for Aaron Luchuk.