Montreal Canadiens: Don't Expect Jeff Petry To Be Traded
The Montreal Canadiens have plenty of irons in the fire leading up to tomorrow's trade deadline. Do not expect Jeff Ptry to be among the player's traded by the Habs.
The Montreal Canadiens are going to be sellers before the trade deadline. They have until supper time tomorrow to make any trades to add draft picks or prospects to their organization by trading away veteran players that could help another team in the playoff chase.
Marco Scandella was already traded as he went to the St. Louis Blues for a second round pick in 2020 and a conditional fourth round pick in 2021. It was a great price tag for Scandella who was acquired for a fourth round pick just six weeks ago. It was pretty much an offer that Bergevin could not refuse.
It is going to take another offer that Marc Bergevin can not refuse if he is going to move Jeff Petry. Elliotte Friedman was talking about Petry on Sportsnet's Headlines segment during the second intermission of Hockey Night In Canada last night. He said the Canadiens are receiving calls but the asking price is sky-high.
Now, an offer Bergevin can not refuse for Scandella is a second and a conditional fourth. Obviously, an offer he can not refuse for Petry would be a lot more than that. Alec Martinez went for a pair of second round picks, and Petry would be worth more than the newest Vegas Golden Knight.
A fair offer for Petry would probably be a first round pick, a top prospect and either a later pick or a mediocre prospect added in as well. Jake Muzzin got the Kings a first round pick, Carl Grundstrom and Sean Durzi a year ago. Neither Grundstrom nor Durzi would be considered top prospects but they were both decent young players at the time. A similar offer for Petry would be fair.
But Bergevin is not looking for a fair offer. He is obviously saying that you would need to knock his socks off with an offer if you want Petry. So, a first and a top prospect would be fair, and it would get Bergevin's attention, but it would not quite knock his socks off.
With only a handful of defensemen available right now, and not many of them being able to claim they can bring everything Jeff Petry brings, there is definitely going to be a lot of interest in Petry. The Carolina Hurricanes lost Dougie Hamilton for the rest of the season and also saw Brett Pesce leave last night's game early with what appeared to be a serious arm or shoulder injury.
Both of them are right shooting defenders and that opens a huge hole on their roster. There is no question Petry would be a terrific fit in Carolina. They will make an offer. They will make a serious offer. But will they knock Bergevin's socks off?
I doubt it. First of all, Carolina also lost both of their goaltenders to injury last night. If they are going to add anyone by the trade deadline, it would be Robin Lehner or another goaltender and not necessarily a defenseman. After paying the price for a starting goalie, will they also want to blow Bergevin away with an offer for Petry?
Bergevin seems to be trying to keep anyone with term around in an attempt to make the 2021 postseason. Even if the Hurricanes offered the Toronto Maple Leafs first round pick and Jake Bean, I don't think Bergevin would accept. He would be asking for a first round pick, Bean and Dominik Bokk.
In other words, Bergevin would be looking for a first round pick and two of their best prospects. Which means, in other words, Jeff Petry is not likely to be traded anywhere, because no one is going to meet that asking price.
A lot of us fans would like to see Bergevin do something bold in the next 36 hours or so. Maybe he moves Tomas Tatar. Petry would be harder to replace. If he gets traded, who is the Habs second pairing right defender for the rest of the year? For next year? Who is the top pairing right D when Shea Weber inevitably misses a few games here and there?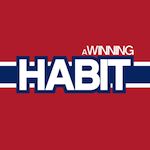 Want your voice heard? Join the A Winning Habit team!
Write for us!
Well, it has to be Jeff Petry. Unless someone sends a ridiculous offer to Bergevin. So, if you see a tweet in the next two days saying Petry is being traded, don't fret. Get excited, because it means Bergevin got an unbelievable offer and simply could not refuse the trade.