Montreal Canadiens: Avs, Flames, Caps are teams in on Ilya Kovalchuk
The Montreal Canadiens want to get a second-round pick for Ilya Kovalchuk, and the Colorado Avalanche, Calgary Flames and Washington Capitals may be in on it.
The back-and-forth/will they-won't they when it comes to trading Ilya Kovalchuk or not is coming to an end. With six points out of a playoff spot, the Montreal Canadiens have to weigh the possibility of them pushing for berth in the post-season vs. signing Kovalchuk to a one-year deal. At the moment, it looks like the better option would be to trade him, and according to Insider Trading, there are a few teams who are interested in acquiring his services.
This comes from Pierre Lebrun, who was on the panel discussing possible suitors for the deal.
Teams that I'm thinking of still Colorado who are looking for a top-nine forward. What about Washington, maybe appeasing Alex Ovechkin with his buddy Ilya Kovalchuk. The Calgary Flames have talked to Montreal so there are options there I just don't know if the price is high enough for Marc Bergevin.
Colorado has been a team linked to the Montreal Canadiens for some time while the Flames are relatively new here. Calgary is always looking for means of improving their scoring depth, and they're not opposed to adding 35-plus players to do so.
The Washington Capitals are new, but it seems like that was an opinion from Lebrun and not really a report. That said, the prospect of Kovalchuk playing with Ovechkin is interesting. The two have played together on National Teams for Russia, and it could make the Capital's powerplay even more dangerous.
The question is whether the Canadiens can get the pick they want. Lebrun made it clear that the goal is to get a second-round pick in exchange for Kovalchuk. He also offered the possibility of it starting off as a conditional third that has the potential of upgrading if Kovalchuk meets some means of performance.
Perhaps it becomes a second if he scores a number of goals or if the Capitals make it to a certain stage of the playoffs. Maybe it applies to whether he resigns or hits the open market again.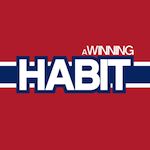 Want your voice heard? Join the A Winning Habit team!
Write for us!
Who knows at this point, but it's interesting to see more team options be thrown into the Kovalchuk mill.