Montreal Canadiens: Lessons Learned From Craig Rivet Trade
The Montreal Canadiens have a difficult decision to make about how much to sell before Monday's trade deadline. History will tell us moving veterans who may not re-sign in the future could lead to future success.
The Montreal Canadiens are not going to make the 2020 playoffs. They are eight points out with 20 games to play and just don't have the time or the team to make up the difference. This makes it easy for them to decide to sell any pending unrestricted free agents. They already started by sending Marco Scandella to the St. Louis Blues.
Ilya Kovalchuk and Nate Thompson should be the next one's out the door. That's the easy part. Trading away veteran players that are unlikely to be back after July 1st and acquiring draft picks is a no-brainer for a struggling team.
The difficult part is deciding what to do with all of the players that have one more year left on their contract before becoming unrestricted free agents. That list includes Phillip Danault, Brendan Gallagher, Tomas Tatar and Jeff Petry. Even if they all want to return, each of them will want a raise on their current contracts and could be difficult to fit in thehxbs salary structure.
So the difficult part of this trade deadline is deciding whether or not they should keep all four of those players or trade one or more of them right now. Keeping all of them would signal Marc Bergevin believes this team can make the postseason next year. It is basically the same team that missed the playoffs by two points last year. Hanging on to all of these guys and just missing the playoffs again next year would be a disaster.
A few years ago, Bob Gainey was in a similar situation. The 2006-07 version of the Montreal Canadiens was in a playoff race as the trade deadline approached. The Habs had three defensemen (Andrei Markov, Sheldon Souray, Craig Rivet) in the last year of their contracts. He did not want to lose them all for nothing so, even though it would hurt the Habs immediate playoff chances, he traded Rivet to the San Jose Sharks for Josh Gorges and a first round pick.
The Canadiens ended up missing the playoffs that year in heartbreaking fashion. They needed a win over the Toronto Maple Leafs in their last game of the season to get in. Though Michael Ryder scored a natural hat trick in the second period to give them a 5-3 lead, they lost the game 6-5. Maybe if they kept Rivet, who was playing top four minutes before being dealt, they would have qualified for the 2007 postseason.
Of course, they likely would have been demolished in the first round by the Buffalo Sabres like the New York Islanders were that year. Instead, since Gainey knew he couldn't risk it all to sneak in and lose in the first round, the Habs got Gorges and a first round pick that they used to select Max Pacioretty.
Not only did the Habs get terrific value from both Gorges and Pacioretty, they eventually traded Gorges for a second round pick, and sent Pacioretty to the Vegas Golden Knights for Tomas Tatar, Nick Suzuki and a second round pick. That second round pick was moved to acquire a third and a fifth round pick which were used to select Mattias Norlinder and Jacob Leguerrier.
So, it was 13 years ago, but instead of letting a veteran defender play out the final year of his contract, Gainey traded Rivet when he got a terrific offer. That trade gave the Habs one of the best goal scorers of the last decade and then Bergevin turned that into a number of players who are playing well right now (Tatar, Suzuki) and could help the team down the road (Norlinder, Leguerrier).
It is important for the future of the Habs that Bergevin takes a page out of Gainey's playbook and sells off a few veterans right now instead of hoping for the postseason next year. Being even more proactive than his predecessor will give the Canadiens the best chance at success down the road.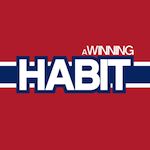 Want your voice heard? Join the A Winning Habit team!
Write for us!
Bergevin needs to be listening to every possible offer for players that have one more year left on their contracts, especially Tatar and Petry. Tatar is a byproduct of that Rivet trade and the Habs could continue to add assets to this trade tree if Tatar is moved in the next few days.