Laval Rocket: Yannick Veilleux and the art of the ECHL call up
With the Laval Rocket fighting to stay in the playoff race, how they play their minor league call ups is key to their success.
In many ways, Yannick Veilleux is a hockey player's hockey player for the Laval Rocket.
A guy who comes to the ice every night and brings the same qualities. Energy, grit, and physicality. It's what's kept him in the AHL consistently ever since he was drafted by the St. Louis Blues in 2011, and its what finds him back with a familiar team this year.
The 2016-17 season was a wild one for the Montreal Canadiens organization in general. They, as well as their at the time AHL and ECHL affiliates (the St. John's Icecaps and Brampton Beast), made the playoffs for the first time in years where the teams showcased many surprise performances across the board. David Pacan had an 82-point season with the Beast, Chris Terry finished runner up for the AHL scoring title with 68 points, and Alexander Radulov had all Canadiens fans feeling the Radu-love.
However, what stood out to me personally, was the performance of glue guys like David "Brolldozer" Broll and Veilleux, who's physicality and penalty-killing abilities were crucial for the IceCaps success, especially as they approached the end stretch of the season. Now, Veilleux finds himself in the same situation, albeit with a slightly different role.
With Laval Rocket head coach Joel Bouchard dealing with injuries and call up troubles (like with top scorer Riley Barber), Veilleux and forward Ralph Cuddemi were called up from ECHL Kalamazoo and Manchester respectively.
In a bit of an unseen twist, Veilleux has found himself becoming a regular offensive contributor to the Rocket. He's put up 10 points in 17 games thus far, having recorded 4 in his first four games, earning himself an AHL contract to finish the season with the team.
Needless to say, his presence has been beneficial to Laval, especially with the team starting to fall behind in the playoff race, sitting five points out of the final playoff spot. With the Rocket struggling to produce offensively, how they manage their call ups from here on out is key to their success.
As we saw last year, head coach Joel Bouchard is used to the idea of the ECHL call up with players like Joe Cox and Alex Kile providing decent production as the Rocket struggled to keep up in the playoff hunt. AHL signing Alex Belzile, who is out for the season with shoulder surgery, wound up leading the team in scoring, while goalie Connor Lacouvee provided a steady backup to Michael McNiven.
The presence of all these players kept most of the team's games interesting and was a breath of fresh air after a disastrous first season, which ended with a 12-game losing streak. It was there that Bouchard had to essentially rely on East Coast guys, with the team using an astonishing 51 different players.
However, the team is definitely more competitive now, and as such, has the chance to really give somebody their shot. There's been an incredible amount of players who have posted ridiculous numbers in the ECHL and below with no call ups to their name. Beast forward David Vallorani, for example, continues to produce at a point per game pace and is worth a look for a Rocket team that could always use a boost to their bottom six.
In many ways, AHL teams have to manage their call-ups as much, if not more so than NHL teams. The trickle-down effect that organizations suffer from having a major injury impacts their success significantly. That was the reason the Montreal Canadiens no longer have an ECHL affiliate, with the Beast deciding to jump ship to Ottawa for their affiliation after not getting enough players to replace the call-ups.
Whether or not the Laval Rocket will do this remains to be seen, but mastering the delicate balance between that of the East Coast players and AHL players is what makes great minor league teams. The last time a Montreal Canadiens affiliate won a league championship – that being the Hamilton Bulldogs in 2006-07 – prospects like Duncan Milroy and Corey Locke were complimented by veteran minor leaguers such as Eric Manlow and Baines. In fact, it was Baines that scored the Calder Cup-winning goal for the team off a 2-on-1 with Maxim Lapierre.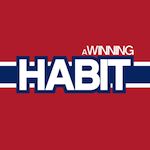 Want your voice heard? Join the A Winning Habit team!
Write for us!
The ECHL call up is a fine art, once which must be managed by skilled GMs, coaches and scouts, much in the same way as the NHL. It's a fine line to balance, but it's one that the Rocket, is quite familiar with.