Montreal Canadiens: Max Domi Costing Himself Millions With Disappointing Season
The Montreal Canadiens traded for Max Domi a year and a half ago. His breakout year set him up for a huge payday but this season is costing him millions of dollars.
The Montreal Canadiens made a surprising trade in June 2018 when they traded Alex Galchenyuk to the Arizona Coyotes for Max Domi. It was a trade that was not met with a warm reaction from most of the fan base. Domi had scored just nine goals the season previous and many Habs fans were still holding out hope Galchenyuk would return to his 30 goal form from 2015-16.
In the 20 months since the trade, Domi has proven to be a far more valuable asset than the Canadiens third overall pick from 2012. In his first season with the Habs, Domi set career highs across the board. He was moved to centre for the first time in his NHL career and scored 28 goals and 72 points. He played a physical style and could obviously put the puck in the net. He looked like he would be the first line centre for the foreseeable future.
Meanwhile, Galchenyuk was inconsistent through his season in Arizona, scoring 19 goals and 41 points in 72 games. The Coyotes traded him to the Pittsburgh Penguins in a deal that sent Phil Kessel the other way. Galchenyuk was brutal for the Pens this season, scoring five goals and 17 points in 45 games before being traded last week to the Minnesota Wild.
Domi has seen his production come down this season as well. He didn't quite fall of the hockey map like Galchenyuk, but he is definitely costing himself millions of dollars with his poor play recently.
Domi started the season well, scoring ten points in the Habs first ten games. He followed that up with just eight points in his next 21 contests. He helped the Canadiens emerge from their eight game losing streak by scoring 15 points over his next 13 games. His Jekyll and Hyde season has continued with Domi scoring just one goal and three points in his last 15 games.
Those are two prolonged stretches of games with very little production. Domi is a player that the Canadiens were counting on to lead them offensively. He started well and had a nice run through the month of December, but there is not much positive to talk about from the past two months.
His timing couldn't be worse. Domi will be a restricted free agent this July. Last July, it looked like he was in line for a huge pay raise. The son of former Maple Leafs enforcer Tie Domi, signed a two year deal worth $3.15 million per year when he arrived in Montreal. After scoring 72 points as a 23 year old, it looked like he could command $7 million or more on a long-term contract.
With 36 points in 59 games this season, Domi's next contract will not be stating with the number seven. Not in years or in average annual value.
This is Domi's fifth year in the NHL. His points per game each of those seasons has been 0.642, 0.644, 0.548, 0.878 and 0.610 this season. He is still just 24 years old and brings a physicality and intensity to the team that you know will come in handy when (if) the Montreal Canadiens ever return to the postseason. He has a versatility to play wing or centre and immediately set career highs when he arrived in Montreal, showing he can handle the spotlight.
However, that one great season during his first campaign in Habs colours looks like an anomaly right now. He is on pace for 50 points this season and finished with 45, 52 and on pace for 53 during his three seasons in Arizona. Domi may want to be paid like a 72 point player, but since he hasn't been able to repeat that feat, the Habs will want to pay him like a 50-55 point player who once had a ridiculously good season.
So what is Domi going to get on his next contract? He is going to get what other 55-ish point players have gotten in the past. Since he believes he can score at a much higher rate, he will likely be going for a short-term deal so he can prove himself and then cash in later on.
A pretty good comparable for where Domi is right now is actually the player he was traded for to bring him to Montreal in the first place. In his first five NHL seasons, Galchenyuk had points per games of 0.563, 0.477, 0.576, 0.683 and 0.721. Following that fifth season, Galchenyuk signed a three-year extension with a cap hit of $4.9 million.
That was in 2017, the cap has gone up since then and Domi's best season was better than Galchenyuk's. I would expect him to get more than Galchenyuk, but not much more than $5.5 over two or three years.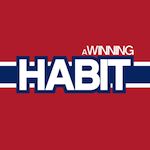 Want your voice heard? Join the A Winning Habit team!
Write for us!
That is a lot less than the long-term deal with a cap hit of $7 million or more that Domi was in line for when he scored 72 points. With three points in his last 15 games and a stretch of just eight points in 21 games earlier in the year, the up-and-down performance of Domi is going to cost him millions of dollars in the near future.