Montreal Canadiens: A Shea Weber retirement would make NHL history
The Montreal Canadiens were hit with some grave news concerning Shea Weber, which brings up the crushing impact a Weber retirement would bring.
Shea Weber was all over the hockey world the last two days as he joined the list of NHL stars out with an injury that already included the likes of Connor McDavid, Seth Jones, and Nazem Kadri, to name a few. The most concerning part of the Weber situation was that it was on the same foot that he received treatment on over the summer. This time it's his ankle, but the recovery isn't as severe as initially thought thanks to the calming from the Montreal Canadiens.
Nick Kypreos was the culprit of the hysteria, saying not only was Weber's season over but that his future was in jeopardy. That's a serious cause for red flags. Not only is Weber the captain of the Montreal Canadiens, but he's also been one of their better players and is signed the longest (tied with Carey Price) until 2026.
The Habs cleared that up saying Weber will only be out for 4-6 weeks and is expected to make a full recovery. However, Kypreos hasn't backed down from his initial comments on Weber's longevity in the league.
Say Weber is forced to retire. The Montreal Canadiens get hit, seeing as they lose their captain and one of their best defencemen. That said, the true loser in that scenario would be the Nashville Predators.
Shea Weber got that massive contract thanks to a massive offer sheet attempt from the Philadephia Flyers. The BC native was coming off a three-year deal that saw him put up 23 goals in the first one. The two sides came together for a one-year $7.5 million extension thanks to salary arbitration before they needed to have talks on a bigger deal. That's when the offer sheets began.
In an attempt to replace Chris Pronger, the Flyers reached out to Weber's camp, and he later signed a 14-year contract worth $110 million with a $7,857,143 cap hit. The Predators matched the deal, and the contract came over to Nashville.
Weber's days with Nashville have been over since 2016, but his link to the organization is still there similar to how Roberto Luongo is still linked to the Vancouver Canucks despite ending his career in Florida.
Thanks to Luongo's deal, the Canucks will have a cap recapture penalty of $3,033,206 on the books for another two seasons after this one. The same will come for Nashville if Weber is forced to retire, but the impact of it is significantly worse.
Here is how the recapture penalty would look like if Shea Weber was forced to retire (starting in 20-21).
20-21: $4,095,238
21-22 $4,914,285.6
22-23: $6,142,857
23-24: $8,190,476
24-25: $12,285,714
25-26: $24,571,428
The first two wouldn't be so bad, but it starts to get worse as the years go on. The third and fourth years are the equivalent of signing having good players on your team. Brayden Point, Steven Stamkos, and Leon Draisaitl have cap hits in that margin. The next year is in the ballpark of Connor McDavid, Auston Matthews and Artemi Panarin.
The final year is key. It would set an NHL record for the highest cap hit on a team's books. At the same time, it would severely cripple the Nashville Predators.
The recapture rule seems ridiculously unfair, and it is, but it was a way for the NHL to deter teams from signing front-loaded deals. It was also a way for teams to be careful with how they handle and sign their players. Obviously, things are different now, and contracts like Weber's, Duncan Keith's, and Alexander Ovechkin's, to name a few, don't exist anymore with seven or eight years being the longest any player can sign. But that's the reality for the Predators.
I don't think it's anything they or the Montreal Canadiens will need to worry about. Weber is expected to be alright and should be ready for next season or the playoffs (if the Habs manage to get there). The chaotic evil of this is that it's not Montreal's problem.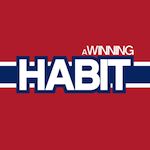 Want your voice heard? Join the A Winning Habit team!
Write for us!
I'm sure if an injury forced Weber to retire, he'd rather go on long-term injury reserve to not put the Preds in that kind of hole. That said, it's interesting to see how a player's decision can financially impact another organization so significantly.