Montreal Canadiens: George Parros Makes Yet Another Ridiculous Decision
The Montreal Canadiens lost 4-1 to the Boston Bruins last night. There was an incident in the second period where Zdeno Chara cross-checked Brendan Gallagher in the face and George Parros decided to let him get away with it.
The Montreal Canadiens lost 4-1 to the Boston Bruins last night. David Pastrnak was too much to handle, scoring a hat trick and Patrice Bergeron finished things off with an empty net goal to ice the game in the third period. The Canadiens had a hard time creating offence against the Bruins and saw their slim playoff hopes fade even further.
The game was mostly uneventful, as far as the Bruins-Canadiens rivalry goes, but there was one incident in the second period that was noteworthy. With the Canadiens set to start a power play with a chance to tie the game, Zdeno Chara lined up next to Brendan Gallagher. The two pushed each other a few times before the gigantic Chara chose to cross-check Gallagher in the face.
Inexplicably, Chara was given just a two minute penalty for cross-checking and Gallagher was handed a coincidental minor for roughing. It was an extremely light punishment for Chara at the time, and the referees, obviously too scared to give the Canadiens a two-minute five on three even though it would have been the correct call, decided to take Gallagher with him.
The head of the Department of Player Safety, George Parros is a former enforcer and even played for the Canadiens at the end of his career. He has been questioned repeatedly since taking over the role as the guy who hands out discipline and he should be questioned once again for his lack of action on the Chara cross-check.
With a viscous cross-check to the face, a player should automatically be suspended. There is just no excuse for using your stick as a weapon. Add in the face that Gallagher returned to the lineup less than a month ago after dealing with concussions and that the play didn't even happen during a battle in front of the net, it was before the puck even dropped!
To let Chara get away with such a violent act sends the wrong message to the entire league. Had Chara dropped his gloves and punched Gallagher in the face once he would have been given a heftier punishment and forced to sit in the box for five minutes. So, when an NHL player is angry, he is better off to smash an opponent in the mouth with their stick since it is just two minutes.
This continues Parros trend of being inconsistent with handing out suspensions. When he should have stepped in and acted by giving Chara a multi-game suspension, he chose to give out a $5000 fine instead. Chara makes $2 million this season and is closing in on $100 million career earnings. If he was told he would get fined $5000 for every player he smashes in the mouth, there wouldn't be a player with teeth left in the Eastern Conference.
What is the deterrent? This fine is far less punitive than the average Joe getting a speeding ticket. $5000 to Zdeno Chara is like everyone else finding out the milk went bad. It's too bad that you wasted the money, but you aren't likely to change your weekend plans because you have to buy more milk.
It should not surprise anyone that Parros can't find consistency with his supplementary discipline. I mean, he gave Milan Lucic two games earlier this season for punching a guy in the head.
Milan Lucic received a 2 game suspension for this. Thoughts? pic.twitter.com/Pxy8NzMmH1

— NHL Nosebleed (@NHL_Nosebleed) November 4, 2019
Now that he knows what his former teammate got away with, Lucic will be sure to use his stick to hit people in the face instead of his glove.
Alex Ovechkin, Marc-Andre Fleury and Tuukka Rask were suspended one game each for sitting out the All-Star Game. I guess that is worthy of a greater punishment than smashing a recently concussed player in the head with your stick.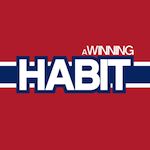 Want your voice heard? Join the A Winning Habit team!
Write for us!
The inconsistency from the NHL's Department of Player Safety is ridiculous, confusing and frustrating. George Parros is at the head of that and he needs to become more consistent. With research finally revealing how devastating head injuries are to players, Parros has to wake and and start punishing players for dangerous plays like the one we saw from Zdeno Chara last night.