Montreal Canadiens: The Jason Zucker Trade Will Convince Marc Bergevin To Sell
The Montreal Canadiens have been debating whether to be buyers or sellers at the trade deadline. The recent Jason Zucker trade will convince them to take advantage of the market and sell.
The Montreal Canadiens have been considering their options as the trade deadline is fast approaching. Will they be buyers? Will they sell some assets? What if they just stand pat and see what happens?
There is an interesting argument to be made for all three scenarios. The Canadiens have played well when healthy this season and another defenseman or power play weapon would give them an even greater chance at finishing the season strong and making a push for the playoffs. They need to catch the Toronto Maple Leafs and Florida Panthers to do that, and both teams have defensive flaws and could be considered vulnerable.
On the other hand, they are still seven points back of a playoff spot and have played more games than every team in front of them. They had two eight game losing streaks and are likely too far out of reach to have any chance of the postseason. If they aren't going to make the playoffs, they may as well sell off assets.
Then, there is the other argument that even though we are nearly three-quarters of the way through the season, we don't really know how good this team is right now. You could make an argument that they don't have any significant pending unrestricted free agents that would get them a large haul in a trade, so they may as well keep everybody, stand pat and see what happens.
I have cycled through believing in all three of these situations in the past few weeks. They looked too far out of it in the middle of January and I thought they should trade Marco Scandella, Ilya Kovalchuk and Nate Thompson since they will be free agents in July. Heck, I thought they should look into trading Jeff Petry as well since he only has one year left on his contract and will be 33 when he becomes a free agent in 2021.
Then the Habs went out and won nine of 12 games. They didn't get back into a playoff spot, but they inched their way close enough to where I thought they should look into buying a player that has term on his contract and can help this season and next, if not longer.
With the team starting to get healthier, I saw Jonathan Drouin return and be placed on the third line with Max Domi and Artturi Lehkonen. I loved that depth and thought maybe the team should just stand pat, wait to get healthy and see if they have what it takes to go on a run over the final two months of the season.
However, in the past few days a couple of things happened that made me believe the path for this team is crystal clear.
First, Shea Weber was injured and Bob McKenzie of TSN said that his injury appears to be a longer term one. You can't replace a player like Weber in the middle of a season. Their chances of making the playoffs are slim already. Without Weber in the lineup every night, those chances become none.
Also, the Jason Zucker trade made me start thinking the Habs not only should sell, they have to sell.
Zucker was nearly traded twice already last season. He scored 21 goals and 42 points for the Minnesota Wild last season in 81 games. This season, he has 14 goals and 15 assists for 29 points in 45 games. That is a 25 goal and 52 point season if stretched out over a full 82 game schedule. In his last game with the Wild, he was playing fourth line left wing.
Zucker was just traded to the Pittsburgh Penguins for Alex Galchenyuk, Calen Addison and a first round pick. If that return doesn't force Marc Bergevin into thinking he should enter the sellers market over the next two weeks, nothing will.
First round picks hold a lot of value, and Addison was one of the Penguins best prospects. He is scoring at over a point per game pace as a right shot defenseman for the Lethbridge Hurricanes of the Western Hockey League. He had nine points in seven games for Canada at the recent World Junior Championships, playing a huge role on the gold medal winning team.
All for a player that doesn't have as much value as Tomas Tatar. Tatar's name has been bandied about in trade rumours this year. He is having a tremendous season and has one more year on his contract before he is a free agent. Tatar has 20 goals and 52 points in 58 games for the Habs this season.
If Zucker is worth a first round pick and a top prospect like Addison, Tatar is worth a first round pick, a team's very best prospect and a young player that is near NHL ready.
It is difficult to connect all the dots when it comes to potential trades. However, Eric Engels recently wrote that the Penguins, Calgary Flames and Edmonton Oilers were interested in Tatar. I might add that the Oilers general manager Ken Holland was in Detroit when Tatar was drafted, developed and later traded to Vegas for first, second and third round picks.
Since then, Tatar has set a career high in points with the Habs and is close to passing that total already this season in less than 60 games. Also, Holland moved on to Edmonton where last I checked Connor McDavid has Josh Archibald playing left wing on his line. I think Tatar would be a bit of an upgrade.
Would a return of the Oilers first round pick, Jesse Puljujarvi and Caleb Jones be too much to ask? I would have thought it was way too much to ask until I saw the return on Jason Zucker. Tatar scores more than Zucker and costs less against the salary cap. He would be an excellent fit alongside McDavid and would at least continue scoring at his nearly point per game pace on a line with the world's best player.
Puljujarvi is a difficult player to place value on. Is he still a top prospect? Is he an NHL ready player? Does he have any desire to ever return from Finland to play with Edmonton? If not, they can't expect to get a huge return for him. He has 44 points in 44 games in Liiga, which is Finland's top league, but he struggled for three straight years with Edmonton and Bakersfield when he was in North America.
It would make sense for the Oilers to deal him if they don't believe he wants to play for the Oilers. At 21, other teams would still value him as a top prospect and a team like the Canadiens would be willing to trade a player like Tatar who is having a career year for Puljujarvi, a first round pick and an NHL ready young defender like Caleb Jones.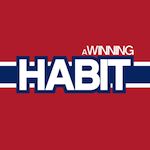 Want your voice heard? Join the A Winning Habit team!
Write for us!
It sounds like a lot, because it is a lot. However, it is only slightly more valuable than the package the Penguins sent to Minnesota to get Zucker. Tatar is a better player than Zucker. If Marc Bergevin is not willing to listen to offers after the Penguins and Wild set the market that high for scoring wingers, he simply isn't doing his job.