Montreal Canadiens: Jesperi Kotkaniemi Showing True Potential With Laval Rocket
The Montreal Canadiens sent Jesperi Kotkaniemi down to the Laval Rocket earlier this month. He is showing just how much potential he has by piling up points in the AHL.
The Montreal Canadiens made the decision to send Jesperi Kotkaniemi down to the Laval Rocket just over a week ago. To that point in his career, Kotkaniemi had played 115 games with the Montreal Canadiens but avoided the American Hockey League altogether.
The Finnish centre was drafted third overall by the Habs in 2018. He was supposed to be a long-term prospect since he was playing in Finland at that time, was very lean and did not turn 18 until a few weeks after the draft. Everything pointed to him needing a year or two of development before making his mark at the NHL level.
Surprisingly, Kotkaniemi showed up at his first NHL camp and was very impressive. He played so well during training camp that he earned an audition with the Canadiens to begin the year. He started the year so well that he was kept for the entire season. He finished his rookie campaign with 11 goals and 34 points in 79 games played. Pretty solid numbers for the youngest player in the league who was getting little power play time.
This season has been a different story. Kotkaniemi battled an injury recently, but has just six goals and eight points in 36 games. The Habs mercifully decided to send him down to the Laval Rocket where he could play a more offensive role, develop his game and regain his confidence.
In just four games with the Rocket, Kotkaniemi certainly looks confident again. He was sent down on February 1st and played a game that night in Laval. He looked a little tentative in that contest, but did add an assist on a Charles Hudon goal.
Kotkaniemi looked a lot more comfortable with the puck in his next game, putting up three assists against the Utica Comets. He added two more helpers against the Belleville Senators on Saturday night and then had one more assist against the Toronto Marlies on Sunday.
Five of Kotkaniemi's seven points have come on the power play. He looks terrific on the side wall drawing defenders toward him and then feeding passes to either Xavier Ouellet at the point or firing cross-ice passes to Charles Hudon who quickly jumped into the league lead in power play goals after Kotkaniemi showed up.
At even strength, Kotkaniemi has been fine. Not fantastic, definitely not bad, just okay. He has two assists in four games at even strength. It's been so long since he handled the puck this often and played this many minutes that it will take a little time for him to settle in and be more comfortable at five-on-five. Not that he has looked scared or bad, it just makes sense that he will improve quickly after being one of the least used players on the Canadiens for several weeks.
You would expect him to play well at the minor league level after playing a full NHL season last year. Still, seven points in four games is impressive for anyone at the AHL level. You don't often see a player play his 18 year old season in the NHL and then get sent down to the AHL the following year.
We have seen a few players follow this route, especially when there are lockouts. None of them were able to dominate on the scoreboard the same way Kotkaniemi has to start his AHL career. The last lockout wiped out the 2012 portion of the 2012-13 season. It sent a few young players to the minors after they played in the NHL as 18 year olds.
Ryan Nugent-Hopkins was the first overall pick in 2011 and had 52 points in 62 games with the Oilers. With the Oklahoma City Barons the following season, he had 20 points in 19 games. Mika Zibanejad had just 11 points in 23 AHL games that season. Mark Scheifele played ten playoff games and had one assist. Sean Couturier had a similar rookie season to Kotkaniemi with the Philadelphia Flyers before putting up 28 points in 31 games in the AHL as a 19 year old.
They all played more than the seven games Kotkaniemi has suited up for thus far. However, only Nugent-Hopkins averaged over a point per game, and he barely did it over 19 contests. Kotkaniemi needs 13 points in his next 15 games to match that production.
Players from Canada rarely get the opportunity to play in the AHL as a 19 year old. Their CHL team that owns their rights gets priority and the player is not eligible to play in the AHL until he turns 20. We sometimes see European players come over and play in the AHL as teenagers.
Filip Forsberg did just that in 2013-14. He scored 34 points in 47 games. William Nylander did the same thing right after being drafted. In his second AHL season he had 45 points in 38 games. We will have to wait and see if Kotkaniemi can continue his offensive explosion for that long, but he is certainly starting out on the right path.
It has been a small sample size thus far, but Kotkaniemi being able to pile up points at the AHL level is a feat even players like Filip Forsberg and Mike Zibanejad struggled to accomplish. If Kotkaniemi can keep up near a point per game pace for the remainder of the schedule, he would be scoring at the same rate players like Nugent-Hopkins, Nylander and Couturier did in the same league at the same age.
All of those aforementioned players developed into key players for their current NHL clubs. Time will tell, but seeing Kotkaniemi scoring nearly two points per game to start his AHL stint reinforces the fact he is going to be a top six player for the Canadiens in the future.
After watching him struggle for so much of this season, it was logical to begin questioning what Kotkaniemi's potential really is for the Habs. When he was drafted, it was hoped he would be a big, first line centre that has been lacking for a long time in Montreal. It is easy to forget he didn't turn 19 until the Carolina Hurricanes matched the Sebastian Aho offer sheet and he is still the youngest player in the American Hockey League.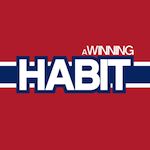 Want your voice heard? Join the A Winning Habit team!
Write for us!
It took a quick trip to Laval, but Kotkaniemi is quickly showing that he does still have the potential to be an exceptional player for the Montreal Canadiens. It just might take a few years, which was his original timeline anyway.