Is next season the time for the Montreal Canadiens to go all in?
The Montreal Canadiens have key players becoming free agents next season, which could push Marc Bergevin to make moves to compete for a championship.
Fans have gone back and forth on whether the Montreal Canadiens should tank or push this season. It was an easier pill to swallow a month ago, but the team has won three-in-a-row and are 7-3 in their last ten games. And to make things even brighter for the Habs, they're five and six points back of the third Atlantic Division and second wild-card spots respectively.
Welcome to the reality shift. Now the idea of trading Ilya Kovalchuk has been thrown out the window, and the conversation of keeping Marco Scandella for a push is strengthening. That's a decision Marc Bergevin will need to make. Again, this season seems eerily similar to last in that it'll come down to the final week or two of the season to determine who gets in and who doesn't.
At the same time, Kovalchuk has proved since day one that he's worth keeping around even if teams are calling on him.
Let's play with the idea that both Kovalchuk and Scandella make it past the Trade Deadline and come back for another season with the Montreal Canadiens. Bergevin walks into a season with a healthy roster and has those key players in the fold to keep the team competitive. He'll also hopefully have full-time participation from Jesperi Kotkaniemi, Ryan Poehling and possibly Cole Caufield and Alexander Romanov.
If there were ever a season to go for it based on the structure of a team's cap, it would be the 2020-21 campaign for the Habs.
If we assume Kovalchuk and Scandella are signed to one-year deals, Montreal will have nine pending unrestricted free agents. On the restrictive side of things, Joel Armia, Artturi Lehkonen, Jesperi Kotkaniemi, Ryan Poheling, Otto Leskinen and Cale Fleury are going to be in need of new contracts.
It's not just regular UFAs the Habs are dealing with here. The entire top line of Phillip Danault, Tomas Tatar, and Brendan Gallagher are up. As good as they are as a unit, Gallagher is the striking point here.
The 27-year-old has been on one of the most team-friendly contracts with a $3.75 million cap hit, which saw him put up at least 30 goals in back-to-back years. Danault is the number one centre on the Montreal Canadiens and has seen his play improve with each growing season.
Kotkaniemi and Poehling are future cornerstones of the Habs' centre depth along with Nick Suzuki, while Armia proved this season he has more offence than initially thought.
The days of a comfortable cap are over. Bergevin will need to start making decisions to fit all his talent underneath that ceiling and stay competitive. It's about to get tight, and decisions will need to be made in the summer of 2021 on what to do, which could bring about significant change to the roster.
Does that make next season the season for Marc Bergevin and the Montreal Canadiens to take a run at the Stanley Cup? Is next season the year where Bergevin starts to leverage some of those prospects and picks for significant upgrades to not only make the playoffs but be a contender?
It's a very optimistic plan off the top, considering the Habs may not make it this year. However, you never know exactly when your time comes. The Washington Capitals and St. Louis Blues tried for years, and they just recently hit that mark.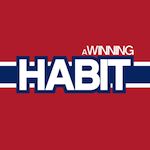 Want your voice heard? Join the A Winning Habit team!
Write for us!
Their last five years haven't been the most reassuring as to whether they perform or not, but that's a question for the summer and possibly at the draft when player movement is more likely. Does he make a trade? Does he sign a big free agent? Both of those questions lie on the overall question of whether they go for it or not.