Montreal Canadiens: Jesperi Kotkaniemi Quickly Finding Offensive Game With Laval Rocket
The Montreal Canadiens made a bit of a surprising move when they sent down Jesperi Kotkaniemi. He has quickly found his offensive game and is making a difference for the AHL affiliate.
The Montreal Canadiens made a bit of a surprising move when they decided to send Jesperi Kotkaniemi down to the Laval Rocket on the weekend. The 19 year old center was not exactly dominating at the NHL level, but had played 115 career NHL games before Saturday when he suited up for his first AHL game.
Kotkaniemi was drafted third overall in the 2018 NHL Draft and made a great impression at his first NHL camp. He stuck around for the beginning of the NHL season and played well enough that he was kept for the entire season.
The tall, lanky center scored 11 goals and 34 points in 79 games for the Habs as a rookie. He showed flashes of offensive potential and a unique vision at times, but as it is with any teenaged NHL player there was some inconsistency in his game and he served as a healthy scratch of a few occasions throughout the year.
This year, Kotkaniemi struggled offensively. In 36 games with the Habs he scored six goals but added just two assists. With his confidence seemingly lower and lower every game, the Canadiens management made the decision to send him down to the Laval Rocket.
It makes sense that a young player, especially a teenager, that isn't contributing offensively should be sent to the AHL. He will get more touches in the lower league and can build up his confidence while still playing in a competitive, difficult league. This would allow Kotkaniemi to improve his offensive instincts while making plays and handling the puck at even strength, on the top power play and being a leader in ice time.
It's much better to have a young player dominate at the AHL level than sit at the end of an NHL team's bench. So far, Kotkaniemi is doing just that – dominating. It has only been two games with the Rocket, but Kotkaniemi already has four points.
He had just two assists in 36 games with the Canadiens this year and he matched that output in the first period last night. Kotkaniemi set up Charles Hudon for a pair of goals in the opening frame, including an excellent cross-ice feed on the power play that set up Hudon's second goal.
Kotkaniemi with a perfect cross seam feed to Hudon who does what he does best, again on the PP. #Habs #GoRocket🚀 pic.twitter.com/u9wqiXu3G9

— Canadiens Prospects (@mtl_prospects) February 6, 2020
Kotkaniemi added another helper in the third period when he made a bank-pass back to Xavier Ouellet at the point on the power play. Ouellet walked to the middle of the ice and fired a shot that hit Jake Evans in front before trickling through the pads of Michael DiPietro.
In his first game with the Rocket, Kotkaniemi played on a line with Charles Hudon and Joe Cox who provides little offence. He appeared a bit tentative but did create some offence and set up Hudon for a goal (that's been happening a lot).
Last night, Kotkaniemi was on the top power play and things were running through him. The Rocket went 3 for 3 with the man advantage which led to them winning 5-4 in overtime. At even strength, Kotkaniemi played with Hudon and Jake Evans and the trio were dominant all night.
With four points in two games, Kotkaniemi is off to a tremendous start to this part of his hockey journey. Although he is putting up points and playing well, there is absolutely no rush to get him back to the big leagues.
The Canadiens should leave him in the minors the rest of the year and let him tear things up offensively for a few months. This will give him the most confidence and preparation for next year's training camp. A new and improved Kotkaniemi would be a huge asset to the 2020-21 Montreal Canadiens lineup.
We saw something similar happen with Kailer Yamamoto recently. He was drafted a year earlier than Kotkaniemi, but played parts of the past two seasons with the Edmonton Oilers. He had just three points in nine games as an 18 year old and scored just one goal and two points in 17 games last season.
Then, the Oilers finally allowed him a longer stint with the Bakersfield Condors of the AHL. Yamamoto scored ten goals and 18 points in 27 games to finish last season and then scored 16 points in 23 games in the AHL to begin this season. The Oilers then called him up and he has been great for them, playing in their top six and fitting right in with ten points in 12 games.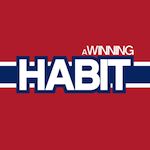 Want your voice heard? Join the A Winning Habit team!
Write for us!
That is what the Canadiens need to do with Kotkaniemi. Just leave him alone in Laval for the rest of the season and allow him to develop his offensive game while playing a huge role for the Rocket. When he comes back up next season he will be far better than we have seen him in the past.