Montreal Canadiens Trade Rumours: Two teams interested in Tomas Tatar
Tomas Tatar is having another solid season with the Montreal Canadiens, and although the team may not sell, two teams are interested in acquiring him.
An assist on Christian Folin's third-period goal for the Montreal Canadiens against the New Jersey Devils gave Tomas Tatar his 50th point of the season. Tatar has always been a consistent player in the NHL as far as goal-scoring goes putting up at least 20 in his last six seasons. The 50-point milestone is one that separates a lot of players, especially in the modern era of the league, and Tatar has found some consistency there.
The 29-year-old hit 50 points for the first time back in 2015 as a member of the Detroit Red Wings. He did it again last season in his first year with the Montreal Canadiens tallying up 25 goals and 33 assists in 80 games, and he has 27 games remaining to build off the 50 points he already has so far this year.
With the Habs looking towards another season without the playoffs, it makes sense that Tatar's name would be a possible selling option. Tatar has one more year left on his contract after this season at $4.8 million. Teams are more likely to trade assets in a contract season; however, having a player for two playoff runs is valuable to teams.
The possibility of a Tatar trade has diminished over the weeks, though. Montreal strongly believes that injuries heavily impacted their season and want to be competitive for the 2020-2021 campaign. If that's the case, having Tatar makes sense for the team moving forward. But just because the Montreal Canadiens are reluctant to trade Tatar, it doesn't mean teams can't calling.
According to Elliotte Friedman in his latest 31 Thoughts post, two teams have looked into and have an interest in acquiring Tomas Tatar.
I think the Oilers have, at the very least, looked into Tomas Tatar. (Pittsburgh would be another team with interest.)
There is a link between the Oilers and Tatar via Ken Holland. Tatar was a second-round draft pick of the Detroit Red Wings being taken 60th overall in 2009. He remained a part of the organization for nine years playing for both the Red Wings and Grand Rapids Griffins from 2009 to 2013.
Although the Oilers are in a playoff spot, they've still wanted scoring depth on the wing. Tatar can easily provide that and has shown he's adaptable enough to play with just about anyone.
The same thing goes for Pittsburgh. Jim Rutherford is always in on players around the trade deadline. The Penguins have fought through all their injuries and may end up taking the Metropolitan Division if they continue to perform.
Keeping in mind the desire to keep Tatar, the offer, if there is still interest, would need to be significant. An idea that jumps out could include the rights to Jesse Puljujarvi, who has spent the year in Finland playing for Karpat.
Puljujarvi has 17 goals and 24 assists for 41 points in 42 games. He's made it clear that he has no desire to play for the Edmonton Oilers and wants a fresh start with another team. If a Tatar trade includes Puljujarvi, the Montreal Canadiens would be in a good position to strengthen their young forward depth.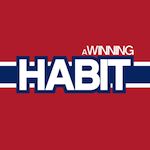 Want your voice heard? Join the A Winning Habit team!
Write for us!
It's an interesting thought and something to keep in mind as the weeks count down. Is there a big enough offer that Marc Bergevin can't say no to that involves Tomas Tatar?