Montreal Canadiens: Ryan Poehling Needs Better Linemates, Even If They Are In Laval
The Montreal Canadiens have Ryan Poehling playing regularly on the fourth line. With such a limited role, it is hard for him to showcase his talents. He needs better linemates even if it means demoting him to find them.
The Montreal Canadiens have been dealing with several injuries to their roster lately. It has tested their depth, and if you look at their recent record, they are not performing well on that test. Most of their injuries have come on the wing, which has stretched them very thin at forward.
Brendan Gallagher returned to the lineup last night, but Joel Armia, Jonathan Drouin and Paul Byron are all out of the lineup and have been for at least the past eight games. This has resulted in the Canadiens calling up several players from the Laval Rocket in an attempt to fill the void left by the injured wingers.
One of the players that was called up was Ryan Poehling. He originally played four games in early November, but was held scoreless and sent down to Laval on November 12th. Almost exactly a month later, with Drouin and Byron out of the lineup, Poehling was recalled back to the big leagues.
Since then, he has played another 14 games and is still pointless on the season. Part of that is due to the fact he is a young player in his first pro season and is adjusting to the NHL level. But part of it is due to the fact he hasn't exactly been put in the best position to succeed.
Poehling is an intelligent player that could already be killing penalties at the NHL level and is a budding defensive force. His offensive game blossomed in his final two seasons with St. Cloud State. He looked terrific at last year's World Juniors and scored a hat trick in his NHL debut last April against the Toronto Maple Leafs.
Poehling has shown some flashes of offensive creativity with the Habs, but hasn't registered a single point. He is strong along the boards and smart defensively, so with the correct linemates he could possibly put up respectable numbers for a rookie.
However, he has constantly been used as a winger on the fourth line with Nate Thompson. His second most frequent linemate this season has been Riley Barber. Thompson is great at winning face-offs, but not so great at scoring points. He has nine in 45 games while Barber was held scoreless in nine NHL contests.
The next most frequent linemate of Poehling at the NHL level is Nick Cousins. Cousins is a fine, hardworking fourth line player, but he also is not much of a threat offensively, though Claude Julien loves to use him on the top power play. Cousins has 13 points in 39 games.
It doesn't make a lot of sense for the Canadiens to put their first round pick from 2017 on the ice with two of their least offensive players every night. Sure, they are battling injuries but if they are looking for a fourth line winger they may as well put Dale Weise out there on Thompson's line instead of Poehling.
It would be fine if the Habs would put Poehling with more offensive players. Moving him up to the third line to play with Jesperi Kotkaniemi and Artturi Lehkonen would be a great spot for Poehling. This would also allow Cousins to play on the fourth line where he is better suited anyway.
In his first seven games, Poehling did not reach the ten minute mark. Lately, his ice time has been up and down. He played close to 16 minutes on New Year's Eve, but that was just two days after playing 7:44 against the Florida Panthers.
It doesn't make sense to take a player with so much potential and have him sitting on the bench for more than 50 minutes on many nights. I know the Habs are dealing with injuries, but there are veterans in the organization that can take on this menial role instead of a top prospect.
Poehling needs to be moved up to the third line for a longer look. He played a few games with Kotkaniemi and Cousins, but was quickly moved back down when Ilya Kovalchuk arrived.
If the plan is to keep him on the fourth line, Poehling would be better served by being sent back to the Laval Rocket. The AHL team is getting healthy and adding Poehling would help them go on a playoff push. He would have a couple of veteran scoring wingers who could help him find his two-way game at the pro level before he is called back up for good.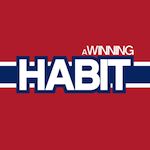 Want your voice heard? Join the A Winning Habit team!
Write for us!
Poehling has a long, bright future ahead of him with the Canadiens. He is too talented, smart and defensively sound to not have an impact on the Habs. He can't do that from the left side of Nate Thompson on the fourth line. He either needs to be moved up to the third line, or sent down to the Laval Rocket. Either way he would have better linemates than he currently does.