Montreal Canadiens Promising 2013 NHL Draft Not Bearing Much Fruit
The Montreal Canadiens appeared to have a fantastic haul at the 2013 NHL Draft. The trade of Michael McCarron yesterday reduces that draft to just Artturi Lehkonen.
The Montreal Canadiens looked to have a great weekend at the 2013 NHL Draft. They went into the annual event with a couple of extra second round picks thanks to Andrei Kostitsyn and Mike Cammalleri trades over a year prior. They also had an extra third round selection, giving them six of the top 86 picks.
Once the picks were in, and even a few years after the fact, most Habs fans were very excited about the haul. It appeared the Canadiens had added a crop of players that would drastically change the look of the Habs, especially the forwards and provide them with tremendous depth up front.
Not only have the Canadiens not received the amount of depth and production they expected from this group of high draft picks, they have barely anything to show at all.
Michael McCarron was the first pick of the Canadiens that year. He was taken 25th overall and the Canadiens management team, led by Trevor Timmins and Marc Bergevin were giddy as they headed to the podium to announce McCarron's name.
With their trio of second round picks, the Habs selected Zach Fucale, a goaltender from the Halifax Mooseheads, Jacob de la Rose and Artturi Lehkonen. After that, the Habs took Connor Crisp and Sven Andrighetto in the third round and winger Martin Reway in the fourth.
At the time of the selections, McCarron was repeatedly compared to Milan Lucic. Lucic was then the hulking winger with 30 goals and two years of 60 points on his resume. It was anticipated that McCarron would soon have the same impact on the Habs roster. Yesterday, he was dealt for Laurent Dauphin who was taken 15 picks after McCarron in that same draft. Neither of them have had much of an NHL impact at this point in their careers.
De la Rose was the next player taken and at the age of 19, he played 33 NHL games and was trusted as a regular penalty killer. With Michel Therrien known for riding his veterans and stapling young players to the bench for the smallest of errors, it was no small feat for the Swedish center to be taking face-offs and killing penalties at such a young age.
At this point, Habs fans figured we had found a third line center for the foreseeable future. It was hoped he could develop more of an offensive game, but even if he didn't, we were expecting him to play a shutdown role for many years to come with Montreal. He was claimed on waivers by the Detroit Red Wings in September of 2018.
Fucale was their next pick and after putting together a tremendous Junior career, there were whispers that he would be the heir apparent to Carey Price in the Habs goal. He has had trouble at every pro turn since then, though he is putting up decent numbers in the ECHL this season. Montreal chose not to sign him after his entry-level contract expired in 2018.
Lehkonen was taken with the 55th pick of the draft. He is the only one that has contributed to the Canadiens on a meaningful level. Still, he set the bar really high as a rookie, scoring 18 goals and being one of the few players that showed up for a first round playoff series with the New York Rangers.
Since then, he has shown a terrific defensive ability, but had seasons of 12 and 11 goals and hasn't been able to score more than 31 points. He has 21 points in 44 games this season and appears to be on his way to a career year. Lehkonen is one of the Habs best defensive forwards and is the only player from the 2013 draft that is still with the Canadiens organization.
Connor Crisp was also taken in the third round and Jeremy Gregoire was drafted in the sixth round but neither ever looked like great prospects.
Also taken in the third round was Sven Andrighetto. He is a skilled winger who had parts of three impressive seasons with the Habs American Hockey League affiliate. He scored 17 points in 44 games in the 2015-16 season with the Habs while scoring 23 points in 26 AHL games. It appeared for a short time that he could be a decent second or third line winger that could score 40-50 points.
However, he struggled in the 2016-17 campaign with Montreal and was dealt to the Colorado Avalanche for Andreas Martinsen. Though he scored 16 points in 19 games the remainder of that year with the Avs, he has since returned to the KHL after failing to maintain a full-time NHL role.
There were high hopes for Martin Reway as well. He scored 62 points in 43 games with the Gatineau Olympiques after being drafted, but a mysterious illness later derailed a one promising career. He is still playing, and is currently a teammate of Jaromir Jagr with Kladno in the Czech Republic, but he no longer has an NHL future.
That means the Canadiens thought they had a huge, top six winger in McCarron, a shutdown centre and great penalty killer in de la Rose, a potential starting goaltender to replace Price in Fucale, a second line winger who is excellent defensively in Lehkonen and a pair of third line wingers who can provide offence in Andrighetto and Reway.
With the trade of McCarron yesterday, all of that has resulted in one excellent defensive winger in Lehkonen who is once again showing the potential to be a 25 goal scorer.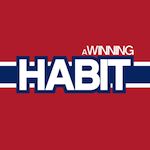 Want your voice heard? Join the A Winning Habit team!
Write for us!
With all of the injuries the Habs are currently dealing with, it would be nice to have a little extra depth right now. Unfortunately, since the 2013 NHL Draft didn't turn out as we all expected, there is a lack of depth at the NHL and AHL level.