Montreal Canadiens: Ilya Kovalchuk Will Have Good Trade Value at Deadline
The Montreal Canadiens signed Ilya Kovalchuk to a low risk contract less than a week ago. They got him for nothing, but could sell him for a decent return in a few weeks.
The Montreal Canadiens appeared desperate and were grasping at straws when it was announced they had signed Ilya Kovalchuk last week. Things did not work out for the former superstar in his NHL return with Los Angeles, and a mediocre team like Montreal didn't seem like the best destination for a veteran like Kovalchuk.
Kovalchuk was the first overall pick in 2001 and was one of the best goal scorers in the world for over a decade. However, he bolted from his NHL obligations in 2013, returning to Russia to play in the KHL. After five seasons in St. Petersburg, where he remained a scoring machine, he signed a three-year contract with the Kings at $6.25 million per year.
The Russian winger scored 19 goals, 24 assists for 43 points in 81 games over parts of the last two seasons in L.A. That is okay production, but not exactly what the Kings were expecting when they signed him to a huge contract. So, they tore up that contract and made him a free agent.
After sitting on the sidelines hoping for an agreement with a Stanley Cup contender, Kovalchuk realized there was not a lot of interest out there and signed with the Habs for the remainder of the season and will earn a pro-rated $700,000 salary.
With so many injuries to wingers right now, the Canadiens could use the help. Jonathan Drouin and Paul Byron have been out since the middle of November and aren't expected back until after the All-Star break. Joel Armia is also going to be out for another few weeks and Brendan Gallagher was injured with a suspected concussion and his timeline for a return was unknown at the time, but is starting to look sooner rather than later.
So, to fill the gaps opened up by injuries, the Habs reached out to a former elite goal scorer. The best case scenario would see Kovalchuk play well, score some points and help the Canadiens climb the standings and into a playoff spot. Worst case scenario would be he plays poorly and doesn't score at all. Even then, with his minimal contract (as far as NHL contracts go) he would be easy to part with.
So far, it has been just two games, but we are seeing somewhat of a middle-of-the-road scenario play out. Kovalchuk has played well, but the Canadiens continue to lose. They are now mired in their second losing streak of seven or more games this season and have a chance to tie a season high with an eighth straight loss tomorrow night!
If this keeps up, it certainly isn't the worst case scenario for the Habs and Kovalchuk. At this point, the postseason is a fantasy. The Canadiens would have to win close to 30 of their last 38 games and that just isn't going to happen. So, they should be looking to move assets at the trade deadline like any other struggling team.
If Kovalchuk continues to play well, and the team keeps losing, they could have a pick close to the top of the draft and could also move Kovalchuk for a pick later in the draft.
In two games with the Canadiens, Kovalchuk has averaged close to 21 minutes per game in ice time, and has three assists. The Habs have only scored five goals in those games and he has helped create 60% of them. He has been playing the power play and a top six role offensively, and still looks like he can help a team in the role.
With the Kings, Kovalchuk quickly fell out of favour this season and was playing a depth role with players like Trevor Lewis and Adrian Kempe who aren't the strongest offensive players. He wasn't getting a ton of ice time, but he still did score nine points in 17 games which is a 43 point pace over a full season. In total, since returning to the NHL at the beginning of last season, he has 46 points in 83 games.
Teams weren't all that interested in signing Kovalchuk after the Kings ripped up his contract. He is 36 years old and it appeared he couldn't help at the NHL level. However, he has a chance to show in the next few weeks that he can still help an NHL team, as long as he is put in a role that he fits. He is not a fourth line winger, but maybe he can slide into a team's second line and top power play and help them in a playoff push. He can obviously still score at least at a half point per game rate.
In 77 games over parts of two season with the New Jersey Devils, Marcus Johansson scored 41 points. The Boston Bruins gave up a second and fourth round pick to acquire him at the trade deadline last year. Derick Brassard was struggling last season and had just 19 points in 50 games but the Colorado Avalanche gave up a third round pick for him because there was a history of production.
Heck, Keith Kinkaid got a fifth round pick for the Devils when they shipped him to the Columbus Blue Jackets to be their third string goaltender.
Teams will get desperate around the trade deadline to do something to improve their chances at a postseason berth and a playoff run. They want to add depth at all positions and sometimes have a string of injuries leading up to the deadline and need to bring someone in to fill the gap.
If Kovalchuk can continue to play like he has in his first two games with the Habs, there is no question teams will be calling to inquire about him. He has the cheapest contract in the league, has a history as one of the top goal scorers of his time, and is showing right now that he can still put up points and play a lot of minutes.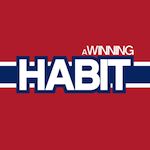 Want your voice heard? Join the A Winning Habit team!
Write for us!
The trade deadline is on Monday, February 24th. The Canadiens will play 20 more games before that date. If Kovalchuk can get just ten points in those 20 games, his 13 points in 22 games with the Canadiens should be enough to fetch a third round pick. Considering they signed him to the smallest contract in the league as a free agent in January, that's like finding money on the street.