Montreal Canadiens: Cole Caufield, Alexander Romanov Face Off Today
The Montreal Canadiens have a terrific group of prospects. Two of their very best prospects face off today in World Junior action as Cole Caufield will go head-to-head with Alexander Romanov.
The Montreal Canadiens have done an excellent job building up their prospect pool in the past few years. Most prospect pundits and draft observers will tell you that the Habs have one of the best groups of prospects around the National Hockey League. They have been able to quickly build it up without many picks at the top of the draft.
Two of the biggest reasons for that were the selections of Alexander Romanov and Cole Caufield. Romanov, a mostly unknown player when he was taken in the second round of the 2018 NHL Draft has proven to be an exceptional prospect. He won the top defenceman award at last year's World Juniors as an underage player.
Cole Caufield was taken with the 15th pick at last year's draft and is putting on quite the show for the Wisconsin Badgers as a college freshman. The Habs were in the dreaded "lose-lose" zone last season when they barely missed the postseason. This meant they wouldn't make the playoffs, bust also means they were picking in the middle of the draft and weren't supposed to get an elite talent.
Well, they might have gotten an elite level player with Caufield. He has scored 12 goals and 20 points in 18 games for the Badgers in his first NCAA season. The Badgers are struggling in the standings, but Caufield is playing extremely well and looks like a steal of a pick, even as a 15th overall selection.
There is no question Romanov was a steal of a pick at 38th overall in 2018. Since then, he has cracked the KHL full time as an 18 year old defenceman which is unheard of and then he won the best defenceman award as an 18 year old playing in an event dominated by 19 year olds every year.
Today, the top two prospects of the Montreal Canadiens will go head-to-head in a huge preliminary round game at the World Junior Hockey Championships.
The Americans started their tournament with a 6-4 loss to Canada, before bouncing back with a 6-3 victory over Germany. Russia began with a surprising 4-3 loss to the Czech Republic but rebounded with a huge 6-0 victory over the Canadians. It was the biggest loss ever handed to Canada at this tournament.
In an odd turn of events after three days of games, every team in Group B has one win and one loss. So, this group is wide open and one of these teams is going to lose a second game today. That will give them a difficult route through the medal round making this a huge game early in this event.
Caufield and Romanov haven't exactly been lighting it up offensively thus far. Caufield is pointless in two games and Romanov has one assist in two contests for Russia. However, Romanov has played big minutes in those two games on the top defence pairing for Russia and they looked dominant in a big win over Canada yesterday. The Russians always seem to get better as these tournaments go on and they find chemistry. That's a scary though considering they just annihilated Canada in their second game.
Expect Romanov to play a ton again today. He was rested a bit in the latter half of yesterday's game after Russia took a commanding lead and that was just to make sure he is ready to take on the Americans today.
As for Caufield, I have no idea what to expect from him today. He started the tournament with John Beecher and Jack Drury who weren't exactly the best fits for an explosive goal scoring winger like Caufield. You would expect a playmaking center like Alex Turcotte or Trevor Zegras to play on a line with Caufield, not defensive specialists.
Caufield was relegated to third forward duty late in the American win over Germany. Him and Arthur Kaliyev were two of the least used forwards in the second half of that game. I guess the coach for USA doesn't like goal scorers?
Caufield should be prominently in the team's top six and first power play unit. He is the best goal scorer on the team which is a moniker he earned while playing with many of these players over the years. The reason why he, along with other 18 year olds like Turcotte and Zegras are being held back is a mystery. Hopefully he gets more of an opportunity to show his excellent offensive abilities today.
If so, it will be an electrifying game for any Habs fan to watch, no matter what country you live in. Watching Romanov dominate at both ends of the ice, and seeing Caufield shoot the puck into the tiniest of openings is really fun to watch.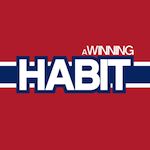 Want your voice heard? Join the A Winning Habit team!
Write for us!
For possibly the only time in their Junior careers, we will get to see the two at the same time. We will see them play together many, many times in the future, and today we get a tease of what they will bring to the Canadiens for many years to come.