Montreal Canadiens Top Prospects Prove Ready To Dominate World Juniors
The Montreal Canadiens have four prospects suiting up in the World Junior Championships later this week. Two of them proved again today that they are ready to dominate this event.
The Montreal Canadiens will have four players representing their country at this year's World Junior Hockey Championships. A handful of their Canadian prospects just missed out on this year's event, but the Canadiens will be represented by the United States, Sweden and Russia, three teams that have a real chance of winning a gold medal.
Last year, we saw terrific performances from Ryan Poehling, Cayden Primeau, Alexander Romanov and Jesse Ylonen. Poehling was named the most valuable player at the tournament, Romanov was the top defenceman and Primeau was excellent in goal, helping the Americans win silver. Ylonen was also there playing for Finland and won gold over the Poehling and Primeau in the final.
This year, we will see Romanov back again and he will be looking to be the only player other than Slava Fetisov to take home consecutive top defenceman awards. Mattias Norlinder surprisingly cracked Sweden's team, beating out some recent first round draft picks for the opportunity to represent his country. Cole Caufield, the Habs first round pick last year will also be there, playing alongside Jordan Harris with USA.
If today's final tune-up games were any indication, we are going to see incredible performances from the Canadiens top prospects once again.
Romanov played early this morning against Slovakia and dominated at both ends of the ice. His experience playing in the KHL has him more than ready to take on the top teenagers in the world as he is used to playing against grown men, giving him an edge defensively and physically against his peers.
He also showed today he can provide some offence for the Russians as well. This shouldn't come as a huge surprise as he scored a goal and eight points in seven games at last year's World Juniors. Today, he had a goal and added a pair of assists for Russia. Among his three points, was this beauty of a setup:
SVK – RUS 0:3 #WJC2020 pic.twitter.com/YDxpuBo73w

— Martin Toth-Vaňo (@Totik96) December 23, 2019
Romanov looked excellent for Russia and will be among the top defenders, if not the very best, at this year's World Junior Championships once again.
When the Russians game was over, the Americans took on Germany. Cole Caufield is expected to score goals for the Americans and he did not disappoint in their final exhibition game before taking on Canada on Boxing Day.
Less then ten seconds into the game, Caufield got a chance and blew past a German defender before being robbed on a nice deke by Germany's goaltender. Germany couldn't stop Caufield for long though, as the Canadiens first round pick roofed a puck on the power play late in the first period.
🚨 COLE CAUFIELD PP
1-0 USA pic.twitter.com/8H7WeJWiUJ

— Here's Your Replay ⬇️ (@HeresYourReplay) December 23, 2019
In the second period, Caufield struck again, pouncing on a lucky bounce that landed right on his stick. The puck bouncing to him may have been a bit of good fortune, but the whole play started because of Caufield hounding the puck. He won a battle for a loose puck in the corner and got the puck back to his defenceman. Caufield then cut through the slot and found some open ice in front of the net, which is pretty much what he always does. When the puck bounced to him, he made no mistake firing it past the German netminder who was playing an incredible game.
🚨 COLE CAUFIELD – 2ND OF THE GAME 🇺🇸
2-1 USA pic.twitter.com/DgHlZDvPcO

— Here's Your Replay ⬇️ (@HeresYourReplay) December 23, 2019
In the third period, Caufield found the scoresheet once again. This time, he made a good defensive play, breaking up a German attack at center ice. He then moved the puck ahead to Zac Jones who carried it back into the attacking zone. Jones fired a pass to Nick Robertson at the point who made a great move around a defenceman before firing the puck into the net to give the Americans a 3-1 lead.
Not wanting to stop at just two goals and an assist, Caufield completed the hat trick with six minutes to play. He made a nice one-touch pass to get the puck out of his defensive zone which started the whole play.
Once the Americans got to the offensive zone the puck ended up back on Caufield's stick and he fired a shot just over the German goal. He would get the puck back again and moved it to York at the point. York slid it across to Emberson, while Caufield got in a perfect shooting position. Emberson fired a cross-ice pass and Caufield hammered it home on a one-timer from his favourite spot.
🚨 COLE CAUFIELD HAT TRICK!!!!!!
6-1 USA pic.twitter.com/n8YnY874Jc

— Here's Your Replay ⬇️ (@HeresYourReplay) December 23, 2019
Just for fun, with a minute left in the game, Caufield finished off a fantastic pass from Wisconsin Badger teammate Alex Turcotte to give him four goals on the night.
🚨 COLE CAUFIELD – 4TH GOAL OF THE GAME
7-1 USA pic.twitter.com/5ltS1LuDMY

— Here's Your Replay ⬇️ (@HeresYourReplay) December 23, 2019
Jordan Harris was also in action for the Americans, and he played a solid game. He is a good skater with great awareness who is being asked to play his off-side. He shoots left but is playing right defence, but still defends extremely well and should be a big piece to the American puzzle as well.
Norlinder was not in action today and it remains to be seen how big of a role he will play for Sweden. They have a plethora of first round picks on their blue line and may push Norlinder down into a depth role.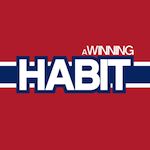 Want your voice heard? Join the A Winning Habit team!
Write for us!
Caufield and Romanov were expected to play big roles for their respective teams at this year's tournament. If there was any doubt whatsoever by anyone about that, both players erased those questions today in their final exhibition game before the World Juniors begin on Thursday.