Montreal Canadiens: Left Defence Help Is Coming, But How Soon?
The Montreal Canadiens have focused more on need at the past few drafts. It means help is coming on left defence, but how soon will these prospects be suiting up in Montreal?
The Montreal Canadiens have broken a golden rule of the NHL Draft lately. They have focused a little more on need than "best player available" at the past few drafts. The organization has sorely lacked true talent at centre for years – decades even – and they attempted to correct that in the past few years.
It led to them somewhat controversially drafting Jesperi Kotkaniemi over Brady Tkachuk or Filip Zadina in 2018. In fact, in that 2018 NHL Draft, the Canadiens had a total of 11 picks and used six of them to select natural centres. This has given them impressive depth down the middle in the prospect pool with players like Cam Hillis, Allan McShane, Jacob Olofsson and Brett Stapley.
The Habs headed into the 2019 NHL Draft with ten picks and clearly decided to focus on another need. This time they went after as many left shooting defensemen as they could find, especially early in the draft. The Habs likely would have taken a left defensemen like Ville Heinola or Thomas Harley (that's Harley Thomas as he was referred as by the Dallas Stars when they selected him) 15th overall, however Cole Caufield, one of the most natural goal scorers to come along in decades somehow fell to them.
Their next four picks were all used on left shooting defenders. They had also taken two left defensemen in the 2018 draft. Taking two of them in one draft, especially when you have 11 picks is not unusual. Taking four players in a row that play the exact same position is quite rare.
But that is exactly what the Habs did at the most recent draft. After taking Caufield, their next four picks were Jayden Struble, Mattias Norlinder, Gianni Fairbrother and Jacob LeGuerrier. Adding that group to Alexander Romanov and Jordan Harris who were taken in 2018 and the Habs suddenly have a half dozen intriguing prospects at the position where they need the most help.
How soon will we see these players at the NHL level though? The Canadiens could use some help on the left side, like, two years ago. I guess when you let Andrei Markov leave via free agency, lose Alexei Emelin in an expansion draft and trade away Nathan Beaulieu and Mikhail Sergachev all within about two weeks, you need to replenish the position.
Signing Mark Streit, Karl Alzner and trading for David Schlemko and Jordie Benn turned out not to be the solution. Right now, the Habs are asking Ben Chiarot to play close to 30 minutes some nights. They have been using Victor Mete as a top pairing defender most of the time but he is currently injured. Their third pairing defender has been either Brett Kulak or Mike Reilly most nights but both have struggled.
The Canadiens have turned to rookie Otto Leskinen to fill the void with Mete injured. He has played fine, but was used very sparingly in his two games and is likely ticketed back to the Laval Rocket when Mete returns to the lineup. Mete has played well next to Shea Weber, but he just isn't the prototypical top pairing defenseman, at least not at this point in his career.
Neither is Chiarot. Neither is Kulak who has played a few games with Weber lately as well. What the Habs need is someone who can handle big minutes on the left side. Is that player coming? And if so, how soon will he be in Montreal?
The left defenseman who will be playing with the Habs the soonest is Alexander Romanov. He is currently playing in the KHL, where he has been since last August when he became one of the few 18 year old defensemen to make the KHL full time. He did it on a fantastic team as well, as his CSKA squad won the Gagarin Cup last March.
Romanov also won some hardware at the World Junior Hockey Championships last winter. He led all defensemen in scoring with eight points in seven games and was named the top defenseman at the tournament.
Romanov is an incredibly smart defensive player, but showed at the World Juniors there is some offence to his game that doesn't shine through at the KHL level. He is signed through the rest of this season, but can get out of his KHL contract next summer. This means he could make his way to North America as early as next season.
Romanov has the defensive acumen and skills necessary to be an NHL defender already. He could very likely start next season with Jeff Petry on the Habs second pairing and there is no reason to believe he couldn't handle tough defensive assignments with Weber.
Rookies at the NHL level often have a tough transition to the pro level. However, Romanov is playing his second full season in the KHL where they play a lot of games and have far worse travel schedules than NHL teams – especially NHL teams in the Eastern Conference. His adjustment period wouldn't be as sharp as someone coming from the NCAA.
Marc Bergevin recently traveled to Russia to meet with Romanov. The 19 year old also came to Montreal for last summer's rookie camp even though he was not eligible to participate due to his KHL contract. He just flew halfway across the world to hang out with other Habs prospects and spend some time with the Habs management team.
I'd say he is going to sign with Montreal as soon as he possibly can and will be making a huge difference on the 2020-21 version of the Montreal Canadiens. The only other young left defenceman that is likely to play any games that soon is Leskinen.
Although he won't be playing with the Habs next season, it won't be long before Mattias Norlinder will be joining him. He kind of bounced back and forth between Modo's professional team and their U20 team last season, but has grabbed a full time role with the pro team this season.
Norlinder is a terrific skater and puck mover who loves to jump into the play and carry the puck through the neutral zone to create offence. He is exactly the type of defenseman that has successs at the NHL level these days. He may not be big and tough, but he plays smart, positional hockey and uses his speed, vision and passing skills to create in the offensive zone.
Norlinder's contract is up this season so he would have no issues moving to North America if he wishes next season. It would be a bit optimistic to expect him to make the move that soon. I'd expect he plays 2020-21 in Sweden where he currently has 13 points in 26 games.
Perhaps he starts the 2021-22 season in Laval, but like Leskinen is called up early in the season when there is an opening for him. That would also be the final year of Chiarot and Kulak's contracts, so I'd expect Norlinder to find a home on the Habs full time in 2022-23.
Jordan Harris should be pushing for a role by then as well. He is currently in his second season with the Northeastern Huskies. He has taken a huge step this season, improving on both sides of the puck and has 11 points in 17 games after scoring 13 points in 39 games as a Freshman last season. Harris will likely play another year or two of college hockey and could need a year or so of AHL hockey with the Laval Rocket before cracking the Canadiens full time.
If he decides to leave college early, perhaps he can accelerate that timeline, but we aren't likely to see Harris on the Habs blue line for a few years yet.
Jayden Struble is currently a teammate of Harris with Northeastern. He is playing a big role for the Huskies already, but is a Freshman and will likely play a few more seasons with the Huskies. The 18 year old is a long-term prospect for sure, but has shown plenty of potential in his 14 NCAA games already.
A couple of more longer term prospects are Fairbrother and LeGuerrier. Fairbrother though, looks great this season with the Everett Silvertips. He has 20 points in 25 games, showing a huge step forward after scoring 36 points in 64 games last season. LeGuerrier has taken strides as well, and is a prospect worth keeping an eye on.
Obviously, not all of these prospects are going to work out and turn into regular NHL players in a. few years. However, the likelihood is high that at least three of them will, transforming the Canadiens biggest weakness into a huge strength in a few years.
Most scouts in hockey are sure Romanov can be a contributor as soon as next season. Those who cover the game in Sweden are really excited about what Norlinder is doing this season. I'd be surprised if they aren't both regulars on the Canadiens with Mete by the time Chiarot and Kulak's contracts run out in 2022.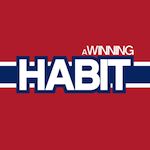 Want your voice heard? Join the A Winning Habit team!
Write for us!
If just one of Harris, Struble, Fairbrother and LeGuerrier turn into an NHL player, the Canadiens will be bursting at the seams with left defensemen. It seems impossible now, but shortly after fixing the issue at center, the Canadiens are once again about to turn a weakness into a huge strength.